While You Were Sleeping
by Gina Valley
This weekend my body was angry, and reacting in ways of which I spare you the details.  But, suffice it to say that the words "explosive," "projectile," and "spontaneous" would come into play if I was describing them.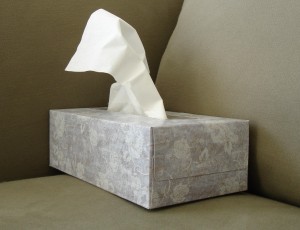 Naturally, my family left me alone during my illness. No pesky people checking on me or offering me food, water or medication.  It was like staying in a bad HMO hospital.   You know the ones. Just a parking lot, a box of tissues, and a sign that says "Good luck with that!"
When I'm sick, no, my family does not take care of me. I suppose this is true for the mom in most families.
I'm sure it's not that they don't love me and don't want me to get well. They're just so glad to have me out of the way for a little while that their brains over flow with unrestrained freedom and juvenile delinquent ideas, and they forget I'm here.
I came down the stairs for the first time in 36 hours on Sunday night.
I found that my pack had been busy (or not.  It depends on your point of view) while I was recuperating.
My child with the broken arm in its 2nd cast in 2 weeks had decided to clean out and rearrange his fish tank.  Hearing him say, "Don't worry, mom. I didn't really get it wet. Much," wasn't particularly reassuring.  I'm sure that smelly fish water is just what's needed to improve the rapidly growing odor that was already fermenting in his cast. That's ok, though. I've got the casting room on speed dial.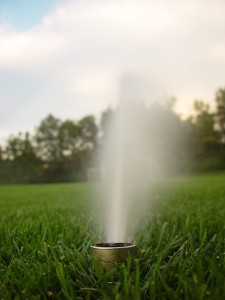 The Professor had been working on the sprinklers in the back yard.  I'm not particularly familiar with "how working on the sprinklers" is supposed to turn out, but, from what I could see, it resulted in our entire back yard and patio being turned into Lake MudAPlenty.
Standing along the shore of Lake MudAPlenty I was able to understand why our light, maple wood floors looked like they had been sponged painted dark brown, quite thoroughly, with puppy paw print-shaped sponges.  Alas, the redecorating had in fact been accomplished with real puppy paws.  I decided not to ask who had let the muddy canines in.
I noticed our two puppies, one formerly blonde, the other black, had morphed into 2 brown blops chasing each other through Lake MudAPlenty.   My 17 year old son reassured me by saying, "Don't worry, mom.  I hadn't given them their baths yet."  Yes, that was my concern, that the dogs had been clean before they turned into mud puppies.  Nothing more tragic than a wasted bath.
My 12 year old son, AKA Cast Soaked In Fish Tank Water, chimed in, "I didn't even go out there, mom, 'cause I know you didn't want me to get icky."  Yes, I was secretly celebrating that he'd gone with soaking his cast in the pristine water from his fish tank instead.
At least I could tell that someone had been working on their homework.  The markers in the puddle of glue and glitter on the coffee table indicated that.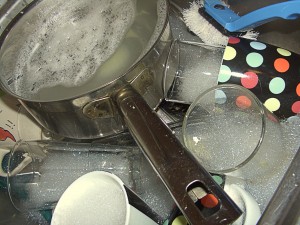 As I was deciding whether to check out the status of the kitchen or the bathroom next, Daughter#3 flew to my side.  Our Kitchen Officer Of The Week was her usual chatty self.  "Mom, I haven't quite finished working on the kitchen yet.  It's not looking super great," she explained rapidly.
I took a quick peek at our kitchen and decided I was too weak for a closer inspection.  Even in that quick glimpse it was quite clear that every dish and pan in the house was dirty, and that refrigeration of leftovers had been considered optional.  I almost marveled over the extent of destruction they had been able to achieve in just over one day.  This magnitude of kitchen disaster was all the more perplexing when I noticed the large stack of pizza boxes on the floor by the trash cans.
I decided to handle the havoc my pack had wrought with maturity and grace.  I told my visible pack members to let everyone else know that I was going back to bed because I was still feeling nauseous, I would be back down in a couple hours, and if this mess wasn't cleaned up before then they were all going to find out how truly messy I could make their lives.
I grabbed a package of saltines and a water bottle, and started up the stairs, confident in the effectiveness of my threat.
As I reached the top of the stairs, I heard my youngest holler out the back door to The Mud Covered Professor, "Hey, dad.  Mom says that if you don't clean this up, she's gonna barf on all of us."
Eh.  Close enough.
Laugh Out Loud!
-gina
Does your home fall apart when you're out of commission?  Who takes over when you can't do what you usually do? Does your family dote on you when you're sick or ignore you?  Shoot me a comment.  I'm looking forward to hearing all about it.
Click on my posts below for more giggles from the sickbed:
It's Different When Mom Gets Sick
As always the extra click counts as cardio.
Thank you for reading, and sharing my work on your social media sites.  I appreciate your support!