What I Want For Mother's Day
by Gina Valley
Mother's Day is coming, and the hunt for the perfect Mother's Day gifts is on. It's a yearly challenge for all hunters to come up with something that not only expresses their appreciation of the mothers in their life, but also something that those mothers would welcome as a gift.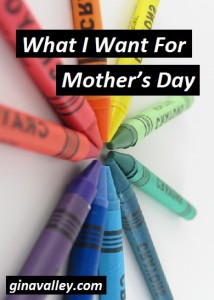 I'm hanging out with the fine group of hunters over at Dads Round Table today. I've got my Mother's Day wish list there in my Top 7 Things I Want For Mother's Day post.  I hope you'll click on over to join me at Dads Round Table.  Feel free to forward my list to the hunters in your life.
Here's a snippet of what you'll find in my Top 7 Things I Want For Mother's Day post:
Top 7 Things I Want For Mother's Day
Can you feel it?
The air is thick with tension. It's time to figure out Mother's Day gifts.
People who have mothers or are partners with a mother or know someone who's a mother are all experiencing PTGSD (Pre Traumatic Gift Selection Disorder).
I don't claim to represent the gift preferences of every mother on the planet, but a very unscientific poll of many of the moms I know showed great support for my favorite gifts. I think it comes down to the fact that we moms, just like you dads, really just want to feel acknowledged, appreciated, and loved.
Here's a list of the top seven gifts that would help me feel all of those things. I'm willing to bet that the mothers in your life would love these, too.
Top 7 Things I Want For Mother's Day
#1.  Something Kid-Made – A card, a picture, a sculpture, hand prints, anything. No matter what age my child is I always treasure most something they make for me. A card made for me means more to me than any gift. I save those forever. You encouraging and guiding my child to make something for me warms my heart, and demonstrates that you understand me.
#2.  A Picture Of World Peace – By "world peace" I mean, of course, "my world" in peace, and by "picture" I mean a photograph of all of my kids. So, a photo of my kids together, all getting along, and all in the same location. Dressed nicely. Hair combed.  Even if it just lasted long enough for that one photo, nothing is more beautiful to me.  In a quality frame, ready for me to display….
Click on over to Dads Round Table to read my Top 7 Things I Want For Mother's Day post in its entirety (you might want to send the list to the Mother's Day gift hunters in your life). As always, the extra click to get there counts as cardio!
Happy Mother's Day!
Laugh Out Loud!
-gina
What gift do you want for Mother's Day? What do you give the mothers in your life?  Shoot me a comment. I'm looking forward to hearing all about it.