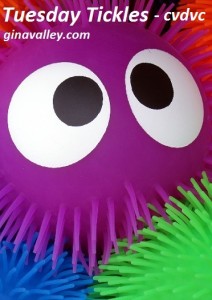 Tuesday Tickles – cvdvc
Complied by Gina Valley
I love to share giggles.
Here's some of the tweets that
made me laugh in the last week.
Great tweets from great tweeps:
"Let go of your crotch and put your shoes on–it's time to celebrate Easter." #ThingsISaid

— Kim Bongiorno (@LetMeStart) April 20, 2014
"Christ has risen, why can't you?" – me trying to wake up teens this afternoon.

— MarinkaNYC (@MarinkaNYC) April 20, 2014
"Mom, do we have any Duct tape and something that will shatter easily?" A question every mother loves to be asked.

— Jen Good (@buriedwithkids) April 18, 2014
How you feeling kiddo? Yeah, you look sick. Sure, if you throw up you can call for me just try to call mom 1st. #conversationwithmysickkid

— jimmyettele (@jetts31) April 17, 2014
"Mom, can you hold onto these dolls? And don't lose the shoes." #FamousLastWords

— Ilana Wiles (@mommyshorts) April 20, 2014
T-ball time. Or as my kids like to call it "Bird watching, dirt digging, ninja turtle playing, twirling, put grass on my head time"

— The Walking Dad (@RealDMK) April 8, 2014
My youngest just got OUT of the tub to pee. I have officially arrived.

— Robin O'Bryant (@robinobryant) April 21, 2014
Carried my 3 year old for 2 kilometres and she talked about everything in the world except the fact that her shoe fell off at the 1st metre.

— Brian Hope (@Brianhopecomedy) April 22, 2014
3: This Easter egg is beautiful, just like you, mommy. It's as pretty as a sock! Your move, Shakespeare…

— Lurk @ Home Mom (@LurkAtHomeMom) April 20, 2014
1-year-old daughter: *stomps on my feet* Me: Ow! 1-year-old: *cries* She hurt me and I'm the one who apologized. She's officially a woman

— Exploding Unicorn (@XplodingUnicorn) April 17, 2014
*shows son picture of leopard* Me: Do you know what that animal is called? 3yo: Yup. DIARRHEA! *donates to World Wildlife Federation*

— Dad and Buried (@DadandBuried) April 23, 2014
Me: Looks like the furniture store's closed. Door's locked. 3yo: I think we should split up. Me: I think we should cut back on Scooby Doo.

— Paige Kellerman (@PaigeKellerman) April 18, 2014
I just found my 10 year-old son licking all the ice cubes in the tray so maybe don't accept cold beverages if you ever come to visit.

— Jeni (@highlyirritable) April 22, 2014
Follow me on Twitter so you don't miss a laugh!
Don't miss a giggle. Be sure to "Like" up my Facebook page, and to share it with a friend.
Laugh Loud Out!
-gina
What makes you smile? Where do you turn when you need a giggle? Do you have a favorite tweeter? Shoot me a comment. I'm looking forward to hearing all about it.