A Toilet Paper Deficiency Alarm …Gina's Favorites
#whatIwantforChristmas
by Gina Valley
Laugh along with this timely 
Gina's
Favorites
 post.
Toilet Paper Deficiency Alarm #whatIwantforChristmas
I want a Toilet Paper Deficiency Alarm for Christmas. It been since before most of my children made their grand entrance into my life that I last waltzed into our bathroom, and was not greeted by a naked tube in the toilet paper dispenser.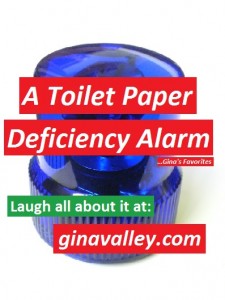 Apparently, I'm the only member of our household who can actually see when the toilet paper tube is empty. I think they all have some sort of Toilet Paper Tube Blindness (TPTB) (no, I did not look it up on WebMD. That would just tell me the toilet paper tube has cancer or Ebola, and I'm sure my family has TPTB).
I'd like a Toilet Paper Deficiency Alarm for every bathroom in our house, but I'd be happy with just one for our powder room. It's the only facilities we have downstairs for off-loading, and, as a result, sees a lot of traffic. Anyone downstairs with even a semi-urgent offloading need, or a touch of laziness, completes his or her transaction in that tiny room.
My children, neighbors, schoolmates, occasionally the FedEx guy. Everyone.
And, not a one of them has ever been able to see the empty toilet paper roll while they were in there.
I don't think I've ever gone into that service center and NOT found supplies to complete the paperwork lacking.
I always pray that the person who last exited had just enough paper to complete his or her transaction in a thorough and business-like manner, and that the roll hasn't been empty all day. I don't even want to think about how many visitors to that facility might have selected drip-dry as the final step in their off-loading procedure.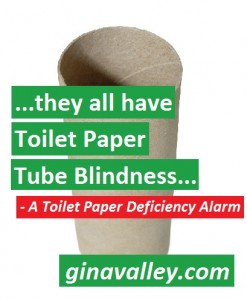 The alarm could start with a gentle warning to the bathroom visitor that supplies are approaching a critical level. Perhaps, a soothing tone or calm voice. Nothing like the ear blasting, nerve wracking beep our van emits when its gas gauge drops below ¼ tank. Although, if you are going to get startled to the point of losing control of your faculties, I suppose the bathroom is the best place to do that.
Then, should the facility visitor fail to rectify the provisions problem, warnings could increase in intensity and volume.  The possibilities are endless, really.
Perhaps, an alarm could holler out from inside the dispenser, "Don't leave me! I'm naked!" when a facility user tries to leave behind an empty tube while exiting the off-loading station.
Or, maybe, an effective way to encourage the loo lazy to replace the roll before making their escape would be for the alarm to use the moment the user's hand touches the doorknob when the roll is empty to deliver an electrical shock.
It'd just be a small shock.
Probably.
Laugh Out Loud!
-gina
Does your family suffer from Toilet Paper Tube Blindness (TPTB)?  Do you get stuck with re-stocking the loo, too?  Shoot me a comment. I'm looking forward to hearing all about it.
Be sure to hook up with me on Facebook and Twitter  and Pinterest so you can see all of my #whatIwantforChristmas posts.
I'm want to read your #whatIwantforChristmas posts, too. Shoot me your Facebook, Twitter & Pinterest links if we aren't already connected. I'm looking forward to giggling along with you!
Be sure to invite your friends to join in by sharing my Something Completely Different…Sort Of post with them on all of your social media spaces.
Photos courtesy of 
Stock.xchng
 – Used with permission