Top 10 Ways I Knew Today Was Going To Be Rough
by Gina Valley
It's been a rough day.
But, I knew it was going to be a rough day.
I had plenty of early warnings.
Here's 10 of them.
Top 10 Ways I Knew Today Was Gonna Be Rough: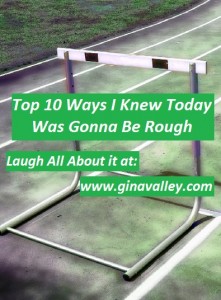 #10.  Because my sister gave us 2 puppies.  At 2:00AM, I woke up because our 95 pound boy puppy, Bear, decided he missed his 75 pound sister, Ziva, and decided to wake our whole household.
Greatly concerned that his house-shaking, deep barks would wake my littles, I dashed down the stairs to comfort lonely Bear.  Bear always sleeps downstairs.  He doesn't like to go up the stairs.  Ziva likes to sleep upstairs.
I explained too Bear that he would have to climb the accursed stairs, if he wanted to go where his sister was.  He's about 80 pounds past me carrying him up.  He explained that he wanted Ziva to come down instead by barking even louder and more intensely.
Ziva woke up, and came to the top of the stairs.  I explained to Ziva that she would need to come down the stairs to hang out with Bear.  Ziva explained that she didn't want to come down by barking loudly at Bear.
Their doggy discussion woke Son#1, who came stomping down the stairs, grabbed still barking Bear by the collar, and put all that muscle-building gym time to work by hauling Bear up the stairs to sleep in his room next to Ziva.
At2:30AM, I woke up because Bear realized that he'd forgotten to use the bathroom before going upstairs.  I knew this because he started barking his "I am going to explode" bark from behind the door to Son#1's room.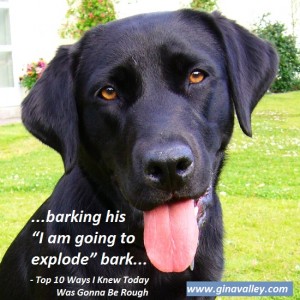 I heard Son#1 grumble as he stomped down the stairs to let our 2 young canines out into the backyard.  I heard him holler at them when they were less than interested in completing their quest.  Then, I heard the three of them all tromp back up the stairs to his room again.
Quiet again settled over the Valley house hold.
#9. Because I had a weird dream and a weirder bed partner.  At 4:00AM, I woke up from a strange dream (wherein my sister was deep-fat frying a turkey in our family room right next to the sofa) because I felt like something was in my hair.  As my gears caught and I became fully conscious, I remembered the overnight hair conditioner I'd put in my hair before going to bed.  I realized a glob of it had probably accumulated and was shifting around.
With one hand I searched through my hair for the rouge conditioner glop, while smacking The Professor with my other hand, in an effort to rouse him enough to turn on the light.
At the very moment The Professor finally processed my request and turned on the light, I caught hold of the renegade in my hair.  I firmly grasped what felt like a blob of the gooey conditioner and a tangle of hair, and slid it out of my hair between 2 of my fingers and my thumb.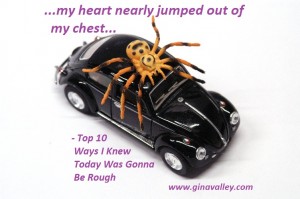 When I saw what I'd pulled out of my hair, my heart nearly jumped out of my chest.
Turns out it was not a blob of conditioner.
It was a big spider!
I had not only squished a giant, black spider, complete with ¾ inch long legs & a goo filled abdomen in my hair, I had dragged it through my hair, and was holding it in my hand.
Screaming, throwing, and thrashing about ensued, unimpeded, for several minutes, most of which came from me.
#8.  Because I don't recover quickly from spider invasions. From about 4:15AM until around 4:30AM, The Professor searched through my hair for any arachnids, parts thereof, or signs welcoming such in my hair.   My conditioner soaked, very curly, dark hair, coupled with my frequent whimpering and sudden spasms at imagined spiders made this a tough, but necessary pre-sleep job.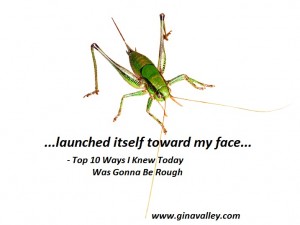 #7.  Because sometimes husbands are wrong.  At 4:30, The Professor gave my hair the all clear, and I told him that we'd need to change all of our bedding and thoroughly vacuum our room before I could sleep.  He told me that he was sure there was no more wild life in our room, and if we did all that we'd have no time left to sleep.  To demonstrate the uselessness of such a predawn undertaking, The Professor grabbed our 4 pillows and shook them.
A giant cricket sprang forth from the shaking pillows and launched itself toward my face.
So, it took us until 5:00AM to change all our bedding and thoroughly vacuum our room.  Normally, I get up by 5:00AM, but my lack of sleep made me decide to try to squeeze in some shut eye before waking my kids at 6:30AM.
#6.  Because football is big business.  At 5:15AM, my eyes flew open as The Professor's iPad sprang to life, producing a squeal we'd never heard before and were unable to turn off.   Apparently, ESPN had some vital, life-saving information to pass on to The Professor.  I guess they were afraid that perhaps he'd been living on another planet and was unaware of a little football game planned for this Sunday.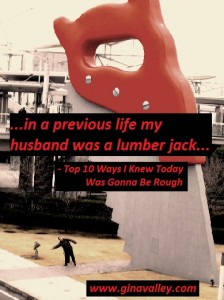 #5.  Because in a previous life my husband was a lumber jack. At 5:30AM, I was still wide awake, but I could tell The Professor was soundly sleeping, as CalTech sent me a text telling me his snoring was setting off their earthquake detector again.  Somehow, probably due to complete exhaustion, I was able to drift off to sleep, despite the window-shaking, snoz-sounds being emitted by my spouse.
#4.  Because we taught the kids how to talk.  At 6:00AM, I woke up to the sound of Daughter#1 asking me if I was awake.  Why do children do that?  I haven't truly slept since before they were born.  Ironically, I don't think I've been totally awake since then, either.  She wanted to know if she could have a Tums, because her tummy hurt.  She had to ask me 6 times before my brain was clear enough to understand what she wanted.
At 6:15AM, just as I had entered into the first of my last 15 minutes of possible slumber time, I heard Daughter#1 hollering to me from downstairs (who needs an intercom?), "Moooom!  I don't need the Tums anymore. I'm throwing up."
#3.  Because I act without thinking in emergency situations.  At 6:16, I was halfway down our stairs, still believing I could somehow contain the damage from the explosion I was hearing springing forth from my daughter.  But, I realized, as stood on the stairs' landing, that I was too late for containment.  I was standing in a puddle.  Barefoot.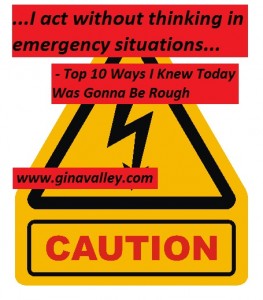 She had "decorated" the floor from her room, down the stairs, and through the hall that leads to our downstairs bathroom.
#2.  Because we have a large community of woodland creatures living in the many trees in our yard.  After using disinfecting wipes on my feet, I headed to our garage to get a bucket to mop the floors.  I'm not a big fan of the whole "puddles of barf" thing.  Naturally, no bucket or bucket like container was present in our garage.  But, I must confess that I didn't spend a lot of time looking, because I was nearly overcome by the fumes coming from one of the walls.
Apparently, one of our woodland friends had chosen our garage wall as his final resting place.  I have to admit that I was feeling more nauseous than honored by his choice.  The unseasonably warm weather had clearly worked to kick the odor up a notch, and I had to abandon my search, lest I start producing my own pucky puddles.
#1.  Because I need an exorcist to visit my bathroom.  I switched on the light in my bathroom, and a swarm of fruit flies suddenly appeared and surrounded my head.  Maybe they were celebrating my victory over the wicked spider in the night.  I might have heard them singing.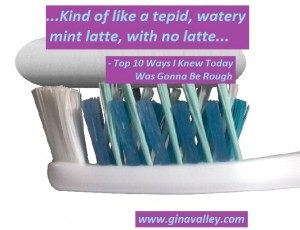 In an effort to continue my leaisurely morning of decadence, tried to brush my teeth.  I discovered that the cold water in my bathroom would not work.  Apparently, it had died during the night.  I'm betting that spider had something to do with that.
Brushing my teeth with hot water was a special treat.  Kind of like a tepid, watery mint latte with no latte.
Bonus:  Because Son#3 fell sound asleep during the drive to school, so his carpool brought him back home.  I hope he's just suffering from "No sleep at sleep over camp this weekend"-itis, and not about to be the second in what history has taught will be a long series of participants in The Stomach Flu Games.   It is an Olympic year, after all.
This is the kind of day that you usually just want to go back to bed and forget.  But, I couldn't.  Just thinking about getting another spider in my hair gave me heart palpitations.
That counts as cardio, right?
Laugh Out Loud,
-gina
How'd your week start out?  Was it smooth sailing or rough water?  Do you find that when it rains, it pours?  Shoot me a comment.  I'm looking forward to hearing all about it.
Photos courtesy of Stock.xchng – Used with permission