I didn't realize how often I'd utter the phrase "Use soap!" when I became a parent.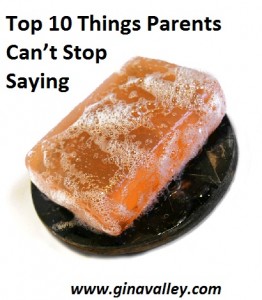 I can hardly believe how frequently I need to remind somebody to wash their body, or a part thereof, and that washing implies and necessitates the use of some sort of cleaning agent, aka soap.
You'd think soap is an agent of evil or a carrier of poison ivy what with the way my children avoid it.
But, "Use soap!" isn't my only near constant refrain.  Like all parents, I seem to be frequently repeating myself in a surprisingly un-broad spectrum of topics.
Top 10 Things Parents Can't Stop Saying.
#10.  "Don't eat that."
#9.  "Don't lick that."
#8.  "Take that out of your mouth."  And, its chaser, which is delivered with a very confused look:  "What is that?"
#7.  "Don't climb on that."
#6.  "Do you need to use the loo?"
#5.  "Did you wipe?  Did you flush?"  And the related:  "How come I didn't hear it?"
 #4.  "Did you put on clean underpants today?"
#3.  "Who plugged up the toilet?"  And, the related chaser: "Is there another Tonka truck down there?"
 #2.  "Where are your shoes?"   This is usually uttered when several dozen miles from home on the way to a formal event (Why is it always a surprise that we need to wear shoes?!?!)  Sometimes this comes up during plugged toilet investigations, too.
#1.  "Brush your teeth.  With toothpaste.  With YOUR toothbrush."  Why is this the only time kids are willing to share?!?!
With the constant repetition, it's a wonder that I don't blurt these out more often during business meetings.
Laugh Out Loud!
-gina
What do you find yourself repeating frequently?  Have you ever accidentally reminded a colleague to wash his hands?  Shoot me a comment.  I'm looking forward to hearing all about it.