Top 10 Signs It's Winter In Los Angeles
by Gina Valley
Winter has come to Los Angeles.
"How can you tell?" non-SoCalifornians might wonder.
As always, I'm here to help you out.
Top 10 Signs It's Winter In Los Angeles
#10.  Target is has brought out its swimwear selection.
#9.  The garden gnomes are all wearing Lands End down vests.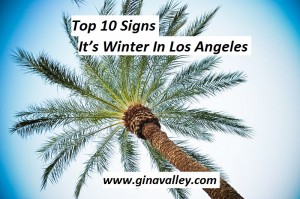 #8.  Your Los Angeles Facebook friends are posting complaints about how they had to wear socks to work.
#7.  There's a guy near the flock of visiting geese at every park lake muttering, "It's not 'Canadian.' It's 'Canada' Geese!"
#6.  The spectators at sporting events are no longer dressed in shorts and t-shirts.  Now they're wearing shorts and snow parkas.
#5.  All the Chihuahuas are wearing little, tiny snow boots.
#4.  WalMart has replaced its rubber flip flop collection with fur-lined flip flops.
#3.  Car windows are fogging up and no one is "auditioning" inside.
#2.  Store credit card purchases are down because people keep snapping their credit cards in half while trying to scrape the frost off their windshields.
#1. People have stopped complaining about the heat.
Bundle up, Buttercup!
Laugh Out Loud!
-gina
What's winter like where you live?   Are you a fellow SoCal'er?  What's your favorite sign of SoCal winter?   Shoot me a comment.   You're here anyway & I'm looking forward to hearing what you have to say.