Top 10 Signs My Kids' Schools Are Closed Today
by Gina Valley
My kids don't have school today.  I have no idea why.
One of my kids told me that it's National Squirrel Day, but I don't think that's it.  After all, I can clearly see the squirrels in our backyard, and they don't seem to be taking the day off.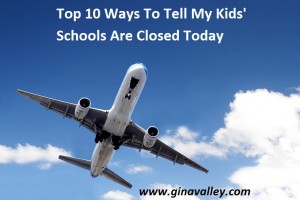 But, my kids definitely are.
Here's how I know.
Top 10 Signs My Kids' Schools Are Closed Today
#10.  The decibel level in my home is twice that of an airliner's jet engines during takeoff.
#9.  A pack of 15 neighborhood kids just ran through my living room chasing our girl puppy, who has an Xbox controller in her mouth.
#8.  The refrigerator door has been opened and closed so many times today that the light bulb exploded.
#7.  There were 2 arguments about who'd get to play Rope n Fly on my computer before 7:00AM (I ended the arguments by ever so politely screaming "Don't touch my computer!").
#6.  My kids' teachers keep calling, asking "How's it going?" and then laughing hysterically.
#5.  My eldest daughter, who was too sick to even get out of bed this morning, was miraculously healed just after her brother reminded her there's no school today.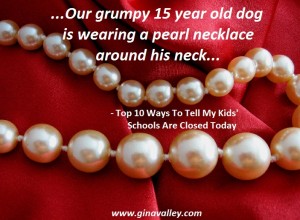 #4.  Our grumpy 15 year old dog just walked out of my Dog Whisperer youngest daughter's room with curlers in his hair & a pearl necklace around his neck.
#3.  I checked when the next flight to Hawaii departs 3 times before 10:00AM (there's a flight with an empty seat departing in 3 hours).
#2.  The barrel of Goldfish Crackers I bought at Costco yesterday was inhaled in under an hour
#1.  All of my kids were up and dressed by 6:00AM.
I wonder if school's open tomorrow.
It's not National Moose Day or something is it?
Laugh Out Loud!
-gina
How can you tell school is closed around your place?  What do you do/did you do when your kids were home all day unexpectedly?  Shoot me a comment.  I look forward to hearing all about it.