Top 10 Signs It's Humid
by Gina Valley
People whine about our traffic and sky-high real estate prices, but most everyone loves our weather in Los Angeles.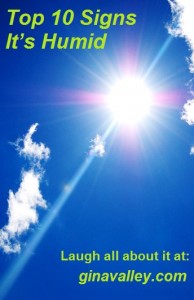 We only dip below freezing on a few nights during the winter.  Just enough for me to justify the beautiful pair of boots living in my closet.
And, during the summer, although the mercury does often rise, it's a dry heat.
Most of the time.
This week is not most of the time.
It took me a couple days to realize what the problem was.  As I began to analyze all of the data our disturbed SoCal universe was sending out, there was no denying it.
Humidity had hit LA.
Here's some of what clued me in:
Top 10 Signs It's Humid 
#10.  I have to chew the air when I take a deep breath.
#9.  When I ask Siri what the weather is she just laughs and laughs.
#8.  Our fish are swimming around outside of their aquarium
#7.  I washed my hair yesterday, and it still hasn't dried
#6.  There's a splashing sound when the wind blows.
#5.  Our dogs have learned how to turn on the ceiling fan.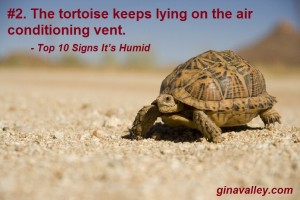 #4.  I've had to utter the phrase "Underpants are not a complete outfit, no matter how hot it is" to 3 of my 4 sons.
#3.  Laundry starts to mildew before the wash cycle is even finished.
#2.  The desert tortoise that lives in our backyard keeps coming in the house, and lying on the air conditioning vent.
#1.  It's taking all of my self-control (and a lot of lowfat ice cream) to keep me from stabbing people who comment "It's not the heat; it's the humidity," with a fork.
It's ok to serve popsicles for dinner 3 nights in a row, as long as they're different colors each night, right?
Laugh Out Loud!
-gina
Is it hot where you are? How do you stay cool when the heat and humidity hit? Shoot me a comment. I'm looking forward to hearing all about it.