Top 10 Signs It's Beginning To Look A Lot Like Christmas
by Gina Valley
If you've interacted with anyone, on-line or IRL, recently, chances are that someone asked you, probably in an overly giddy fashion, "Are you ready for Christmas?!?!," likely followed by a giggle and a tee-hee.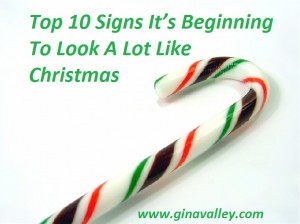 I want to bop those people on the head with one of those giant candy canes, and say, "No, I'm not done shopping, our tree only has lights on one side, we haven't even taken the photo for our card yet, and there's still 2 pumpkins and 5 gourds on our mantel that I'm hoping guests think are just oddly shaped Christmas ornaments."
So, no, I'm not ready for Christmas.
But, ready-or-not, even though we don't get any snow (it was 80 degrees F here in Los Angeles today), I can tell Christmas is getting close.
Top 10 Signs It's Beginning To Look A Lot Like Christmas
#10.  We've finished eating all of the candy "Santa" bought to stuff the stockings.
#9.  The dog is now producing pine needle-laced poop.
#8.  Our Christmas tree has been knocked over 3 times, fallen mysteriously twice, and been dragged across the living room once by our girl puppy.
#7.  Our refrigerator has started making grinding, "I will die if you store Christmas dinner for 30 in here" threatening sounds to mock me.
#6.  All of the red bulbs, and only the red bulbs, on the strands of colorful lights decorating our roof line have stopped working.
#5.  We've received touching, heart-felt Christmas cards from each and every realtor within a 50 mile radius from our house.
#4.  My kids are completely covered by a thin, sticky layer of candy cane residue, and they think they have super powers because everything sticks to them.
#3.  My youngest son came out of my bedroom, and announced, "I did not peek at the presents."
#2.  My pack wore our Christmas stockings to school last week, because I forgot to throw the load of socks into the dryer.
#1.  I've spent so much time with the Amazon delivery guy that I think I'm now his common law wife.
I assume he'll be delivering any children our marriage produces.
Laugh Out Loud!
-gina
Is it looking like Christmas in your neck of the woods?  How can you tell?  Shoot me a comment.  I'm looking forward to hearing all about it.
Photo courtesy of
Stock.xchng
– Used with permission