Top 10 Reasons You Can't Erase THAT From The DVR
by Gina Valley
This weekend was supposed to be one of those pre-holiday-clean-the-house-from-top-to-bottom-so-friends-and-family-who-pop-in-for-holiday-visits-won't-think-we're-total-pigs weekends.  Well, big surprise – didn't happen.
So the weekend cleaning concept wouldn't be completely lost, I decided to tackle the most difficult cleaning job in our house – cleaning out the recordings on our DVR.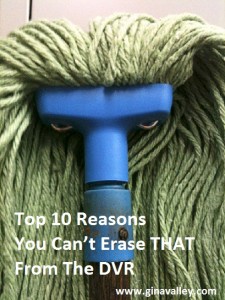 To the uninitiated, this sounds like a quick, simple task.  But, the experienced DVR recording deleter knows that this course of action is fraught with danger and turmoil.  The pusher of the delete key can quickly become less popular than an IRS audit agent at a Cayman Island bankers' convention.
I once tried to erase Dick Clarks Rockin' New Year's Eve, and the near riot it triggered would have made you think I'd proposed clubbing seals as our after dinner entertainment.  And, it was July.  Two years later.
Basically, each member of the family wants each and every recording deleted, except for the ones that person made.  The prevailing attitude tends to be "No one is erasing my stuff."
Naturally, each family member has perfectly logical, valid reasons for wanting to preserve his or her TV recordings forever.
Top 10 Reasons You Can't Erase THAT From The DVR
#10.  Because that has the commercial I love in it.
#9.  Because I don't remember if I liked that or not.
#8.  Because I've erased all my other stuff.
#7.  Because I hate that & I like to yell at that episode.
#6.  Because I want to get the shoes the bartender is wearing in the 2nd scene.
#5.  Because that's the episode where he's talking to that guy and it's daytime, but when he turns around it's night time.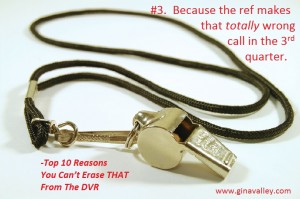 #4.  Because I haven't written down the supplies to build the bat box.
#3.  Because the ref makes that totally wrong call in the 3rd quarter.
#2.  Because the music on that one makes the dog bark.
#1.  Because I told a guy in my math class he could come watch that here because his mom erased it from their DVR.
I really think it is time we established a DVR Amnesty Day, when one can erase the contents of the DVR without repudiation.
Except the stuff I recorded.
Nobody's erasing my stuff.
Laugh Out Loud!
-gina
Who cleans out the DVR recordings in your family?  Who is the big DVR recording hoarder in your pack?