Top 10 Reasons Dinner ISN'T Ready
by Gina Valley
"Why isn't dinner ready?"
Did my child actually just ask me "Why isn't dinner ready?"?!?!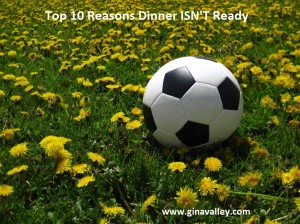 What is he, new here?
Why isn't dinner ready?  Why isn't dinner ready?!?!
What he should ask is "How is dinner ever ready?"
Today's delay is owed mainly to 8 ½ hours spent in the sun on the soccer fields.  Not only did this zap the time from my day, but the memory from my brain, resulting in my already sketchy meal plan falling apart.
I guess I should have been more specific when I made a note to myself that today's dinner would include "something green and a meat type item."  Turns out, another over scheduled week meant that we had no "meat type item," and the only green stuff we had that had not morphed into some sort of brown slime was not supposed to be green at all in the first place.
But, marathon soccer spectating is far from the only reason dinner is often not ready as planned.  I've lost count of the many possible detours to our evening meal.  But, for those of you playing along at home, here's ten of our doozies.
Top 10 Reasons Dinner Is NOT Ready:
#10.  Because the nice man who came to re-glue the loose gasket on the refrigerator door this morning did such a great job, that we haven't been able to open the refrigerator door since he left, and he's not answering his cell phone.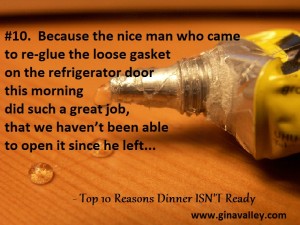 #9.  Because I bought all of the ingredients to make the baked ziti, except the ziti.
#8.  Because I had a client talk at me for 97 minutes straight about the condition of the wound in her leg, and I can't make stew after hearing the word "pus" that many times in one day.
#7.  Because when I made dinner yesterday I didn't realize that you were going to want to have dinner every night.
#6.  Because when I asked your brother to buy whipping cream, he bought whipped cream and I think clam chowder is less than its best when made with Reddi-Whip.
#5.  Because when the guy at the drive-thru window told me I could "have it my way" I slipped into alternating fits of laughter and weeping.
#4.  Because it turns out that the dog can open the refrigerator AND can locate the meat drawer once he does so AND butcher paper does not keep a dog from getting to the roast its wrapped around and gnawing on said roast, after having taken it out to the backyard.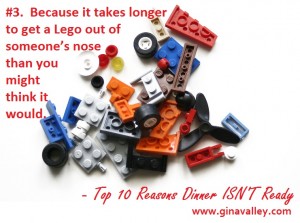 #3.  Because it takes longer to get a Lego out of someone's nose than you might think it would.
#2.  Because the only even semi-clean dish in the house belongs to the dog, and he's not willing to share.
#1.  Because I have to remember where I put my emergency chocolate before I can safely handle knives during homework time.
Oh, and, yes.  Dinner is ready.  The box of Goldfish crackers is on the counter.  Help yourself.
Laugh Out Loud!
-gina
Do you ever find yourself dinner-impaired?   Why is it so hard to have that meal go smoothly?  Shoot me a comment.  I'm looking forward to hearing all about it.