Top 10 Reasons I'm Not In The Winter Olympics
by Gina Valley
The pageantry and spectacle of the Winter Olympic Games always fills us with inspiration and wonder.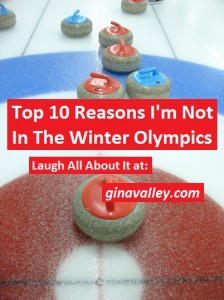 Many of us watch the amazing athletes compete, and think to ourselves that had we just focused a bit more on sliding and gliding with more style and less pile, we could be there ourselves, competing in The Sochi Edition of the Olympic Games.
But, not me.
I know why I'm not there.
Top 10 Reasons I'm Not In The Winter Olympics
#10.  I forgot to get my pink eye vaccination.
#9.  My skis broke when I tried to cram them into my carry-on bag.
#8.  I couldn't figure out where to plug in my curling iron for the curling competition
#7.  I'm cold even during the summer.
#6.  I thought Sochi was a city in Japan.
#5.  I get dizzy trying to spell "biathlon" correctly.
#4.  The humidity turned my hair into a Yeti.
#3.  Apparently, holding onto the wall is not allowed to be the primary part of your figure skating routine.
#2.  White is not slimming.
#1.  I can't stop giggling whenever someone says "luge."
Maybe I'll go for the 2016 team and head to the Rio Games.  Lots warmer there.
Plus, I hear they don't have wolves roaming their hotel halls, either.
Laugh Out Loud!
-gina
Why aren't you at the Sochi Games?  What's your favorite Olympic sport to watch?  If you could compete in any sport at the Olympics, which would you pick?