Top 10 Good Things About LITTLE Earthquakes
by Gina Valley
We were rockin' and rollin' here in SoCal again last night.  We had some more little earthquakes. Nothing big enough to cause any significant damage, but plenty large enough to rattle some nerves, particularly those of the non-earthquake veterans.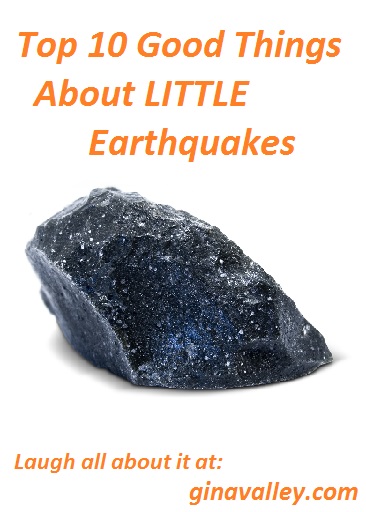 Some people are freaking out. The news people are in a frenzy trying to get us all in a frenzy.  They've gone so far as to show broken soda bottles on a deli floor to remind us of the seriousness of the event from last night. If that doesn't get us into a sufficient state of panic to boost ratings, they have threatened to show unedited shots of toppled patio furniture.
If you aren't used to earthquakes, you might not realize that there are some good things about having the little ones show up once in a while. The news media isn't going to tell you that, but don't worry. I've got your back.
Top 10 Good Things About LITTLE Earthquakes
#10.  Earthquakes teach us speed in the loo. No one completes their business on the porcelain throne faster than a SoCal earthquake expert. Let's face it, no one wants to get caught with their pants down. Literally. We earthquake veterans are speedy showers, too.  After all, the only thing worse than getting caught with your pants down, is getting caught with them completely off.  We're in. We're out. We're finished. That's doubly good because we are running out of water here, too.
#9.  When you live in earthquake country you always know where at least a couple wrenches are. One is hooked to your gas meter. The other is near your water meter.  More accurately, one should be hooked to your gas meter and one should be near your water meter. Unfortunately, knowing those are always there means, when experiencing a mid-DIY emergency wrench need, one is likely to borrow one of those, resulting in the wrenches not being where they should be.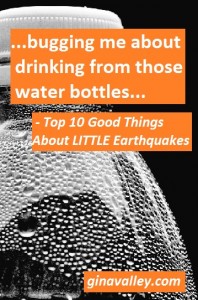 #8.  It's a great excuse to keep hundreds of those evil plastic water bottles on hand without being thought of as an eco-hog.  My kids are forever bugging me about drinking from those water bottles, and thus single-handedly destroying the environment. Thanks to these little earth-shaking moments I can remind my kids that I am not indulging in wasteful consumption. I am rotating our earthquake emergency water supply to keep it fresh. I'm a giver.
#7.  Quake zone residents are always prepared to open a can of anything. Those of us in the earthquake rodeo grounds keep an extra can opener with our emergency earthquake supplies.  So at 2:00AM, when we're frantically trying to make enough spaghetti sauce for the entire football team and their families, because our son forgot to tell me he signed me up to make my sauce for the 200 people expected for lunch in a mere 10 hours, and our kitchen can opener dies a sudden and untimely death, we are still able to open the cans of tomatoes, and to avoid yet another crisis.
#6.  Living where the earth moves means not living with horrible gifts. A wonderful benefit of living with the occasional temblor that's rarely spoken of in non-earthquake zone residents' circles is how convenient earthquakes are for disposing of horrible gifts without hurting the gift-givers feelings.  Earthquakes are a great way to get rid of not only that ugly "I got boned in the Museum of Natural History" mug your neighbor gave you for your birthday, and the frightening collection of erotic ceramic hippos your aunt presented to you when you graduated from college. But, earthquakes can also rid you of that needle point pillow your sister made with the face on it which seems to be watching you no matter where you stand in your living room, and the taxidermy dog your Uncle Stewart "knew you would just love!"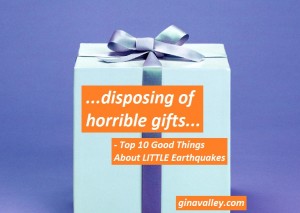 After all, not only do earthquakes make breakable things fall and break, they also make breakable things fall onto non-breakable things and break them, too.  No need to put it on the front edge of the shelf and wait for the next jiggler to do it in, either.  Just a report from you that it happened will be evidence enough to explain the gift's new residence in gift heaven.
#5.  Earthquakes are also a great excuse to over-shop. Pulling up to the registers at Costco with your 3 carts full of stuff makes you look like a hoarder, until you mention that you are restocking your earthquake supplies.  Then, you suddenly become the hero. Clark Kent should be such a fine individual.  No need to explain the case of Oreos or diamond earrings. We all do what we have to in survival situations.
#4.  Earthquakes are a great reason to stock up on trashy novels and other questionable reading material. After all, if you're going to have to be prepared to live in a tent for days on end, with no running water, and only sketchy cable service, you've got to prepare a way to keep yourself and others entertained. Otherwise, we'll all just turn into animals and start living out Lord of the Flies.
#3.  Cleaning out the pantry in earthquake country is a breeze. If in doubt, put it in the earthquake kit. Not sure why we have this can of hearts of palms. Didn't even know palms had hearts. But, apparently I paid $3.99 for it, so I'm not throwing it out. Into our earthquake kit it goes.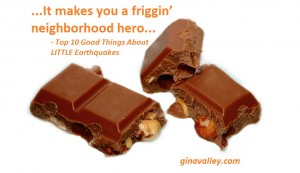 #2.  Earthquakes are a great excuse to keep a supply of chocolate in the house. Earthquakes can cause a lot of stress. Eating chocolate tends to relieve stress.  Buying that 10 pound bag of Ghirardelli's doesn't make you a pig. It makes you a friggin' neighborhood hero. Of course, chocolate doesn't last forever, so you need to make sure you rotate your chocolate stock, to keep it fresh, by occasionally scarfing down the entire bag, and buying a new one.  Because you are a giver.
#1.  Living in earthquake country means it's always ok to go shopping.  You aren't being an over-consumer.  You are preparing for a community disaster. Buying that super cute sweater and adorable stiletto boots are not indulgences, no matter what your non-earthquake-preparedness husband thinks. They are supplies for a potential emergency living situation. So are the other 25 pairs of boots you own.  The same is true of that shiny new generator and air hammer you just adopted from Harbor Freight, even if your non-earthquake-preparedness wife is in denial about the amount of air hammering necessary after an earthquake. Just put it next to the juicer you bought from that infomercial.
Currently, our earthquake supply box includes a can opener, 2 empty water bottles, and a bag of candy corn from Halloween 2 years ago. So, these latest shakes have reminded me I need to hit the stores to restock. I'll hit the mall first thing in the morning to stock up. I need to make sure we are prepared to take care of our family and to assist our neighbors in the event of an actual emergency.
I'll start at the shoe store.
I always feel safer in an emergency situation if I have a new pair of heels.
Laugh Out Loud!
-gina
Have you experienced an earthquake? How are you prepared for emergency situations? Do you have an emergency chocolate stash? Shoot me a comment. I'm looking forward to hearing all about it.
Photos courtesy of Stock.xchng – Used with permission