Top 10 Cool Things About Being In The Hospital
by Gina Valley
I'm staying at the hospital with my dad this week.  He had open heart surgery to correct 5 blockages in his heart a couple days ago.  He is doing amazingly well, and now that he's out of ICU and in a regular room, he's getting a bit tired of the whole hospital thing.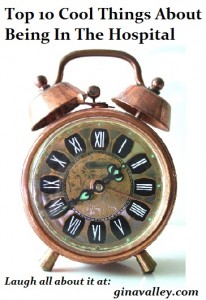 But, I think his exhaustion and pain meds are keeping him from seeing the really cool stuff about a nice stint in the land of whited-sheeted beds.  Even a hospital has, after all, some cool stuff going for it.
So, I figured today would be a great day to review my Top 10 Cool Things About Being In The Hospital.
If you or one of your loved ones is facing a stay at a medical megaplex soon, I hope it eases your mind.  Or, at least gives you a giggle.
Top 10 Cool Things About Being In The Hospital:
#1.  You don't need to set an alarm clock because someone wakes you up every 15 minutes to ask if you need a sleeping pill.  Convenience on the quarter hour.
#2.  Awesome designer wardrobe provided at no extra cost. It's breezy.  It's light.  It manages to combine stiff, itchy fabric with revealing nudity, all completely without sexiness.  It's a wardrobing miracle.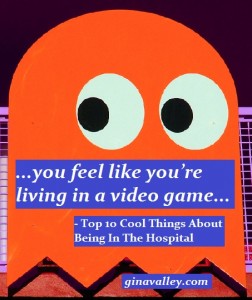 #3.  Constant, unending beeping makes you feel like you're living in a video game.  You get a real-life Tron reality without having to wait in the long line for one of those fan experiences at ComicCon, and you don't even have to leave your bed.
#4.  That foldy, bendy bed.   How fun is that thing?  50,000 different positions, every one of them uncomfortable, and a crinkly sound every time you turn over.
#5.  That row of weird equipment hooked to the wall above the head of the bed that even the nurses don't know what to do with.  Ask a know-it-all health care provider what one of the pieces is for, and sit back and enjoy some made up medical mendacity.
#6.  You meet new people every 15 minutes … Oh wait – that's the same nurse; you're just sleep deprived.
#7.  Those funky containers the food comes in.  Don't you wish you had some of those at home?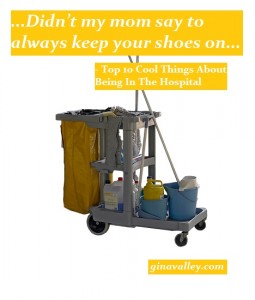 #8.  Weird, stretchy, rubber coated socks instead of shoes.  Didn't my mom say to always keep your shoes on in a hospital because of all the germs?  So, why don't they let the patients, you know – the sick people – wear shoes?
#9.  Completely losing track of what day and time it is WITHOUT the aid of mind altering drugs.  It's like your dreaming while you are awake.
#10.  Completely losing track of what day and time it is WITH the aid of mind altering drugs.  And, it's all legal.  Pretty much.
And, relax.  Remember, your medical team is going to do everything they can to ensure you live a long, healthy life.
After all, they want you around to make the payments on your bill.
Laugh Out Loud!
-gina
Has your extended warranty run out?  Any new creaks or squeaks showing up? Any fun medical times in your family?  Shoot me a comment. I'm looking forward to hearing all about it.
For more of my helpful medical advice or fun travel and vacation planning please visit my The Emergency Room – Like Disneyland, But Cheaper and Fun Times At The 'Ole Urgent Care Center posts.  As always the clicks to get there count as cardio.
Photos courtesy of 
Stock.xchng
 – Used with permission