Top 10 Signs You've Had TOO MUCH Candy
by Gina Valley
It's the most candy-centric time of the year.
There's candy everywhere you look.
People are talking about candy. People are buying candy. People are eating candy. People are dropping candy wrappers on the floor.
Or, maybe that's just at my house.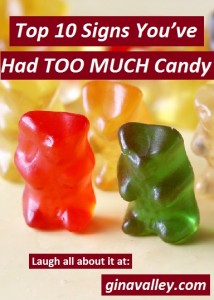 Not only is this the time of year when we tell our children it's ok to take candy from strangers, but we actually dress them up like little crazy folks and send them out to beg for candy.
The hypnotic sweet scent of candy surrounds you the moment you step into any store, causing you to mindlessly grab and cling to bags of Kit Kats and mini Snickers, as though you're lost at sea and they're life vests.
Is this sugar tsunami threatening to drown you? Have you had too much candy? Is it time to set down the bag of Starbursts and to slowly back away before anyone else gets hurt?
How can you be sure?
If you (or your child or your spouse) meet any of the following qualifications, you (or he or she) have had too much candy:
Top 10 Signs You've Had Too Much Candy
#10.  Your commute to work took half its usual time & you didn't even take your car.
#9.  You know what the fox said.
#8.  You can see sound.
#7.  You stirred your morning coffee with a Snickers bar & followed it with a Milky Way chaser.
#6.  You can recite The Song of Hiawatha 10 times in a row without taking a breath.
#5.  You swam ten laps at the gym & never got wet.
#4.  You sent your daughter's hamster into a sugar coma just by breathing on it.
#3.  You didn't pay attention to what was discussed at your morning staff meeting, because you were too busy picking M&M characters to match each person seated around the table.
#2.  You complained to the waiter at lunch that your salad had no colorful candy coating.
#1.  You did that Gangnam Style thing so fast that you set the carpet on fire.
If you still aren't sure whether you (or your spouse or your child) have had too much candy, down one more Milk Dud, then see if the fluorescent lights in your office get brighter.
Laugh Out Loud!
-gina
How flows the candy tide at your house?  Are you chocolate or anti-chocolate? Do you monitor the candy intake or just hope it all disappears soon?  Shoot me a comment.  I'm looking forward to hearing all about it.
Photos courtesy of 
Stock.xchng
 – Used with permission