Time To Torture The Teacher.  Again.
by Gina Valley
It's that lovely time of year.
There's a special magic in the air.
The air is crisp.  The leaves are turning.  The teachers are popping antacids.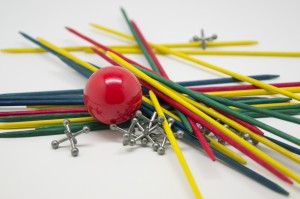 That's right.  It's the season of parent-teacher conferences.
I'm sure you have been looking forward to this, ever since you first met your child's teacher for this year.
Don't feel too bad if your child is too old for mandatory conferences.  You can make his teacher's day by requesting an individual one, preferably on a Saturday night.  The teacher probably needs something to do then anyway.  Or, just wait for Back to School Night and plan to discuss all of your individual issues with your child's teachers then.  The other parents won't mind waiting at all.
Teachers love a good challenge, so make sure you are well prepared for your parent-teacher conference.  This is a great opportunity to help your child's teacher develop patience and people skills.  You wouldn't want your child's teacher getting bored and running off to join a gang.  I mean in addition to the teachers' union, of course.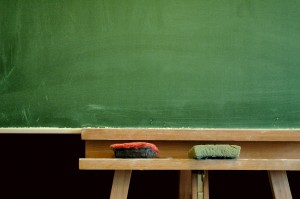 Leave nothing to chance.  Make a thorough plan.  And, remember, everyone enjoys a good ambush.
Firstly, remember that your assigned conference time is really just a suggestion.  Your child's teacher knows you're a busy, important person, and is just thrilled to have you show up at all.  You should be sure to mention that last year's teacher was thrilled you showed up only 45 minutes late, and even pointed how she was so thankful that you could squeeze her into your busy day.
When her teacher shows you your child's grades be sure to look shocked, and to challenge every one of them.  After all, last year's teacher gave your child all A's.  Last year's teacher was a fantastic teacher.  You have at least 20 minutes.   Obviously, that is plenty of time for the teacher to recalculate each and every grade.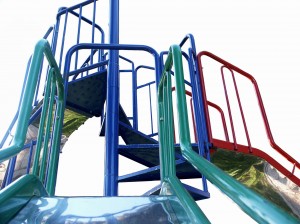 When his teacher tells you that your child has been misbehaving during class, be sure to point out that he must be bored if he's acting up.  Last year's teacher was excellent at presenting the material in an interesting way which kept your child challenged, so he never goofed off.
Be very specific about how you want to help in the classroom and very vague about when you are planning to actually do that, no matter what help the teacher expresses wanting or needing.  Some people have to hear your 2 1/2 hour presentation on garden elves to totally appreciate it.  Last year's teacher certainly appreciated and enjoyed it.
Your child's teacher would greatly appreciate it if you would tell her which of the other children in her class are the source of all evil.  Remind her that every year there is some child forcing your child to misbehave and that you expect her to put a stop to it.  After all your child would never make these poor decisions were it not for the behavior of the ruffians around him.  Last year's teacher even gave your child a special seat, far away from the other children to protect him from their poor influence.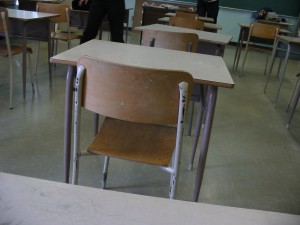 Ask your child's teacher for his twitter handle (hint: it's usually some variation of @MakeThemStop).  Be sure to let him know that you sent him a friend request on Facebook, so he will be able to keep up with your busy, important event-filled life.
After all you don't have time to notify him individually every time you plan a family vacation in the middle of the term, and obviously he needs to have all those lessons ready for you, whether you have notified him personally in advance or not.  Also, let him know how much last year's teacher appreciated all of the wardrobe tips you provided to her after you checked out her vacation and New Year's Eve photos.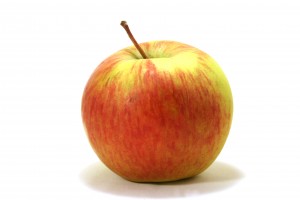 Lastly, be sure to remind your child's teacher that your child is on 3 different sports teams, so she is just going to have to accept the fact that he will turn in his homework when he has time.  And, that you expect her to get it back to him right away, no matter when he turns it in.  After all, you have to check it for grading errors and get it filed into the proper evidence box right away.  Last year's teacher always gave your child's homework back the same day, and never made grading mistakes.
By the way, don't mention that last year's teacher ran off screaming when she saw you at the grocery store in July, and has apparently been on a self-imposed sabbatical at a secure facility ever since.  You don't want to give this year's teacher any ideas.
Laugh Out Loud!
-gina
What's your best parent-teacher conference advice?  Have you sat sweating on both sides of the table?  How'd your first P-T conference go?  When you were a kid did you dread when your parents met with your teacher?  Shoot me a comment.  I'm looking forward to hearing all about it.
Be sure to check out my How To Make The Teacher Hate You and The Special Joy That Is High School Back To School Night posts for more education based giggles.  I'll meet you over there.
As always the extra click to get there counts as cardio.