An Automatic Sock Matcher #25daysofwhatIwantforChristmas
by Gina Valley
I want an Automatic Sock Matcher for Christmas.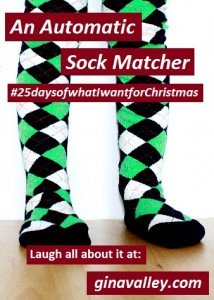 Nothing makes me feel my life slipping away quite as thoroughly as time spent matching socks.  It makes cleaning out our refrigerator or waiting in line at the Department of Motor Vehicles sound like fun.
I've tried to beat those shifty socks at their own game by purchasing packs of 12 identical pairs for my kids.