There's NO Sleep In Sleep-Over
by Gina Valley
I didn't realize a person could wear a dress shirt inside out.
But, The Professor did it today.
I think he gained that super power sometime around 3:31am when the fifth loud crash, followed by peals of laughter, echoed up from our family room. He rolled over and asked me if I thought it was too late to return our children to the hospital.
I giggled at my sleep-deprived husband. We could never return our children. I have no idea where the receipts are.
Our 14 year old and 5 of his friends camped out in our family room last night. Our son said it was a sleepover. I'm not sure what it was, but it was definitely not a sleepover.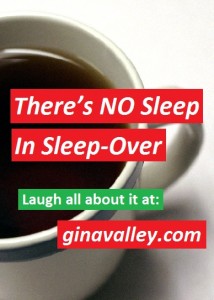 No one slept. No one.
No one downstairs slept.
No one upstairs slept.
I don't even think anyone in the yard slept, because I'm pretty sure the raccoon that lives in the tree in our backyard flipped me off while I was taking out the trash after breakfast.
I tried to sleep, but each time my total exhaustion overcame the noise and I started to doze off, my daughters burst into our bedroom and demanded that I "Tell the boys to 'Shut up!'"
I did not "tell the boys to 'Shut up!'" although I might have, if I hadn't been too exhausted to get out of bed.
So, my eyes are bloodshot, and I accidentally brushed my teeth with wrinkle cream this morning.
My daughters are frighteningly grumpy, and thankfully, refusing to get out of their beds.
The 14 year olds encamped in our family room only opened their eyes long enough this morning to find the Capt'n Crunch and M&M's they'd requested for breakfast (I know. I was grossed out, too). Then, they all collapsed back onto the floor, snoring with their pillows and video game controllers.
Even our dogs have bags under their eyes, and are too sleepy to wag their tails.
And, I think I saw our XBox yawn.
I could tell The Professor was too sleep-deprived to think, because he patted me on the head and kissed our dog goodbye on his way out the door. He was off to deliver a lecture on snail teeth, or some such vital topic. I wondered how he'd remember what he was supposed to say.
I also wondered about his unusual fashion choice.
"Hey," I queried. "What's up with your shirt?"
"I had a lot trouble buttoning it," he answered, after draining his coffee mug.
I refilled it for him. "I think that's 'cause…uh…it's inside-out," I answered.
I decided not to mention he was wearing two different shoes.
After all, who was I to criticize? I'd just gargled with my contact lens solution.
Laugh Out Loud!
-gina
Do your kids sleep at sleep-overs? Did you, when you were a child? Do my shoes match? Shoot me a comment. I'm looking forward to hearing what you think.
Photos courtesy of Dreamstime.com – Used with permission.