Seriously Today – I Don't Know What To Say
by Gina Valley
I'm a bit lost today, as I sit down to write this.
I don't know what to say.
Haven't been in this position before, having suddenly taken a week or two of time off.  Sort of checked out, as it were, without leaving a message.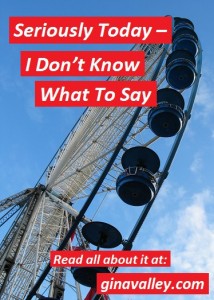 I've discussed it quite a bit with myself.  I've logged a lot of driving hours over the last couple weeks, giving me lots of time to argue with myself, much to the amusement of the surrounding drivers stuck in our lovely LA freeway traffic.  Anything to share a smile. I'm a giver like that.
Do I explain my absence?
The world continued to spin, weeds grew, babies were birthed, bombs were dropped.  Clearly, the world does not revolve around me or my tiny part of it.  I'm always ahead on contracted work, so nothing was late there. Although some people did contact me about my uncharacteristic lack of output, I'm sure most didn't even notice.  We're busy, all of us, over-stuffing our 24 hours each day, after all.
"Just jump back into it," the one hand said. No explanation needed.  Pump out the funny. Gloss over it. Move on. No one will be the wiser.
"Yes," the other hand said. "No one will be the wiser, if you just gloss over it. That's the problem with doing that."
That is a problem. The "glossing over" bit, I mean.  Too many people "gloss over it."
A small part of the reason for my absence was dealing with getting proper health care for one of my children after he fell 10 feet, landing on concrete, while scaling a building. He will be fine. We are thankful he did not receive a serious head or spinal injury. He should be mostly healed up in a month.  In 6 to 12 months, he'll have a surgery to correct what cannot heal without help. Not fun, but finite.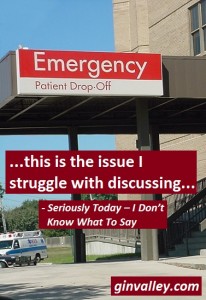 Stressful, worrisome, heart-rending, but something most parents go through at some point with at least one of their children.
The main reason for my sudden absence from social media, blogging, work, pretty much everything, is because of one of my other children's illness.  Illness that you don't go through. Illness you stay in, because it's not finite.
This is the issue I struggle with discussing.
On the one hand, I want to, and feel a responsibility to, maintain my child's privacy.
On the other hand, I know many families struggle with this and feel they're alone, and I feel a responsibility to let them know that they're not alone. They are not the only ones.
My child suffers from mental illness.
To protect my child's privacy I've chosen to use the letter "Q" instead of my child's name.
Actually, Q has been diagnosed with a couple mental illnesses, not an uncommon thing amongst those who have received thorough mental health evaluations.  Q is not my only child with mental illness. Most of the time, Q's illness is not apparent to others, as she goes about her day, although it's always there and always requires at least a bit of Q's energy.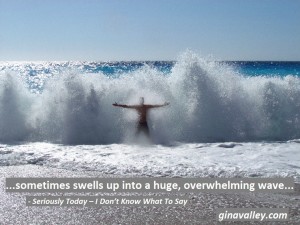 Q's illness sometimes swells up into a huge, overwhelming wave, pulling Q under.
That's what happened recently, causing Q to have terrible problems while struggling with it. Q, as most of us are prone to do, made some bad choices while under the tremendous stress.  Those bad choices, coupled with the illness itself, resulted in hospitalization and some long term issues Q and the rest of our family will have to deal with for quite some time.
I'm sharing our family's struggle with you, for several reasons.
First of all, if your child has mental illness, I want to make sure you realize you're not alone, it's not your fault, and help is available. Mental health facilities for minors are lacking, but help is available.  Don't give up. Insist on the care that helps your child. Not every option works for every person.
Secondly, if you suffer from a mental illness, I want to make sure you also know you're not alone. Mental illness can feel like an isolating experience.  Reach out to those around you. Seek treatment. And, seek additional treatment if you are not finding relief with what you have. Everyone's needs are different, and needs change over time. Keep advocating for your own health.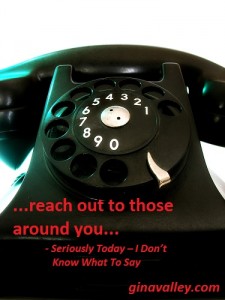 Thirdly, if you know someone who suffers from mental illness or has a child who does, ask them how you can help. Everyone's needs are different.
Friends have taken my kids to the park or to the movies while I've spent time seeking care for their sibling.  Others have made us dinner or helped with the laundry.  Prayers and sympathy are wonderful, but having practical needs met has also been a big help for me.
Most importantly, remember that mental illness is an illness, not a character flaw.  No one is faulted for having the flu or a broken leg or cancer. No one should be faulted by anyone, including themselves, for having mental illness either.
And, lastly, no matter how bad things seem today, they won't stay that way forever. Give yourself a break by taking every opportunity you can to Laugh Out Loud!
-gina
Do you have a family member or close friend who struggles with mental illness?  How do you reach out to them?  Do you have a mental illness?  What have you found is most helpful for friends to do for you?  Shoot me a comment. I'm looking forward to hearing all about it.
If you need help and don't know where to turn, click on this link for a list of hotline numbers which may be of help to you.  Also, talk to your doctor, your family, your pastor, your teacher, your friend, anyone around you.  Tell people you need help.  You don't have to face this alone.
Photos courtesy of Stockxchng. Used with permission.