Seriously Today – I'm Angry!
by Gina Valley
I'm angry.
Maybe more than angry.
Yes, definitely more than angry.
Yesterday, one of my daughters was the victim of a crime.
Five of my kids and I were out clothes shopping.  My 19 year old son took my youngest kids to wait in our van while I paid for his sister's clothes, as the line to pay was long and slow. Our van was parked about 20 parking spaces straight out from the front of the store I was in.
My teenage daughter got tired of waiting in line with me, and decided to go wait in our van, too.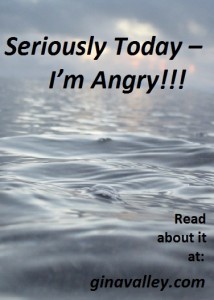 It never occurred to me that it was unsafe for her to walk from the store to our van.  I didn't even think about it. I couldn't see her trek from my vantage point, but even if I could have, it would not have occurred to me to monitor it. Her older brother, waiting in our van, had no idea she was on her way, but he, too, would never have thought she needed protecting at that point.
Even now, looking back, it seems impossible that something bad could happen when she had such a short distance to cover in broad daylight, in a shopping center located in a Los Angeles suburb, that has been repeatedly named one of the safest places to live in our nation several times.
But, something bad did happen.
A man followed my daughter almost the instant she left the store. He harassed her, made crude, salacious comments, and tried to touch her. It terrified her. She was nearly running by the time she reached our van, with this man inches behind her.
Her brother, then alerted to trouble, hopped out of our van and started toward the man. The man saw him, and ran off.
When I returned to our van, no one mentioned the incident to me until we were nearly out of the shopping center parking lot.
When someone finally did, I immediately parked, so I could get the whole story.
After making sure my daughter was okay, I drove around the shopping center in an effort to locate this man. If my daughter was not safe, no one else's was either. I could not just drive off and leave a dangerous situation for the next child who was in that shopping center.
We found the man.
I had my kids stay in the van, and I went to talk to the man. I told the man, who was in his thirties, that he had harassed my young, teenage daughter in that parking lot and that was completely unacceptable.  He spewed out some filth and lies, trying to make it sound like my daughter had sought him out. I reminded him that it is a crime for an adult such as himself to make comments like that to a child or to try to touch anyone.  He again replied with filth and non-sense.
It was clear at that point that he was either mentally ill or under chemical influence. I told him I was going to call the police because he was a danger to children in the area. He said that he did not care. I asked him if I could take his picture. He said, "Yeah, then I can be famous."
I took his picture, in case he disappeared before the police arrived. I called 911, and the first squad car arrived a couple minutes later. When it did, the man raced into a large store, presumably to hide.
Several more squad cars with multiple officers arrived. They searched the store, found the man, and arrested him.
In the movies, that's where this kind of story ends. The bad guy goes to jail, where he will be kept until he changes his way. The victim goes home, feeling healed & safe, knowing that the bad guy is gone forever.  Even the police officers feel great about having solved a problem and ensured safety in the kingdom.
But, this wasn't a movie.
This bad guy will not be kept in jail until he changes his way.
The victim does not feel healed or safe.
The officers involved feel only frustration and futility, knowing the problem is not solved.
And, I'm angry about it. All of it.
I'm angry that I have to think about this.  All of it.  I not only have to consider whether a child is mature enough not to get lost and large enough not to be carried off, but also is he or she protected enough not to be harassed if walking around outside. Our children should be safe because they are children. I'm angry that is not the case.
I'm angry that this man has a very long history of being arrested in that area for similar offenses, which have steadily increased in aggressiveness, and  yet the law that works so well to protect the accused's rights, does nothing to protect the rights of the innocents, in this case, my daughter.
I'm angry that my daughter must change her behavior to protect herself from this man, but this man does not have to change his. One of the officers told me that he had personally arrested this man at least a dozen times and that I needed to make sure my daughter knew that this man would be back in the area as soon as he got out of jail, so that she can brace herself for that.  My daughter will have to stay away from that shopping center for her own safety, but the man who tried to assault her there will return.
I'm angry I hadn't taught my daughter to scream, make a scene, and yell for help in that kind of situation. I'm angry it hadn't even occurred to me that she would ever be in that kind of situation, and would need those kinds of skills.
I'm angry that my daughter has had to relive what was a terrifying experience for her, over and over, as she was asked to give her statement to the officers and detectives. They need her statement to do their job. They need it to protect other people. But, I'm still angry that she had to do that, because of the additional pain and trauma it caused her.
I'm angry that I had to take my daughter to the police station to be photographed and recorded. Officers on the case wisely called in a sex crimes prosecutor for advice on what evidence to collect, so as to have the best chance at convicting this man.
They were told to photograph my daughter wearing the outfit she was wearing at the time, and to record her voice making her statement to be able to demonstrate in court at a later date that she clearly appeared to be a minor at the time. They told me that it's good she has braces, and that it's good she doesn't wear makeup.
Basically, what they were preparing for was a future attempt to blame the victim for this crime. Some lawyer is going to stand in front of a judge and try to convince him that this attack was the victim's fault, my daughter's fault.  I'm angry about that.
I'm angry that my daughter must go through a very stressful process in order to protect others from becoming victims in this man's ever more aggressive string of harassments. It could have been much, much worse. Many have had much, much worse happen to them. That's why we're putting in the time and effort to pursue prosecution in this case. This man has a history of arrests, and, according to officials, his actions are becoming more aggressive.  I am angry that it's so hard to protect other people.
I'm angry because apparently this man has a parent in the nearby area, who is in denial about his mental health issues, and has refused to advocate for him to be evaluated to receive clearly needed mental health treatment. This man is headed for tragedy, his own and possibly that of innocent people around him, too, if he does not receive mental health treatment.
Most of all, I'm angry that something was taken from my daughter that she will never get back.
Every time she walks alone in a parking lot for the rest of her life she will have doubts as to her safety.  She will never again have the innocent, carefree attitude as she walks around in public that she had before that afternoon. She won't be thinking about what she's doing with her friends on Friday night or the cute boots she saw in the store window or how excited her brother will be when he opens up the birthday gift she bought him.
Instead, in the back of her mind, and sometimes in the front, she'll wonder if she's being followed. She'll plan how she'll escape.
I'm angry about that.
Very angry.
Fifteen year olds should be worried about who likes whom and acne and what movie is coming out on Friday night.
They shouldn't have to think about whether someone is going to hurt them.
But now, sadly, that's what mine has to think about now.
And, I'm angry.
-gina
How do you handle it when something bad happens to one of your loved ones?  Have you helped a family member through a scary time?  Shoot me a comment. I'm looking forward to hearing what you have to say.
Photos courtesy of 
Stock.xchng
 – Used with permission