Send In The Clowns & Their Car Keys!!!
by Gina Valley
As is traditional with any quality 3-ring circus, The School Parking Lot 3 Ring Circus kept its audience waiting for the main event.
This built anticipation, and allowed for the distribution of water bottles and string cheese sticks amongst the audience members (be sure to get all of the giggles from Ring #1 and Ring #2 of The Parking Lot 3 Ring Circus, too).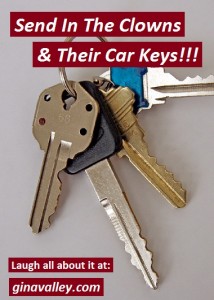 To completely grasp the amazingness of the Main Event in the center ring, Ring #3, one has to understand a bit about Southern California school parking lots.
Long ago, when most of the schools in SoCal were being built, we had a strict neighborhood school system. Kids attended schools they could walk to. Parking lots were built only large enough to accommodate each school's faculty and staff, with perhaps a space or two thrown in for visitors.
Now, the neighborhood school system has become the School of Choice system. This system allows parents to send their kids to nearly any school of their choosing. As a result, many kids, mine included, attend schools miles from home. Parents have to provide transportation for their children to and from the schools they select.
So, parking lots at schools with many school of choice students (my daughters' school for the arts is exclusively attended by school of choice students) are flooded with cars as parents attempt to deliver, and then retrieve their children.
At pick up and drop off time at my daughters' school, the parking lot, including all 4 lanes to drive through it, becomes, well, a parking lot. Cars are lined up, bumper to bumper and door to door, as they wait to inch forward toward the tiny 2 lane exit. It's like trying to get out of the parking lot after a hockey game, but with fewer people wearing cool jerseys, and virtually no puddles of beer to navigate around.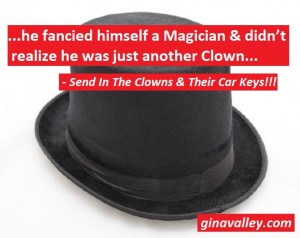 Manhattan rush hour traffic has nothing on a SoCal school parking lot at 3:00PM. Well, there is one major difference. Our afternoon jam is without the chorus of horns so often heard bouncing off of the Manhattan skyscrapers.
Except today.
And, so opened the Main Event in Ring#3.
As we all sat in our vehicles, thoroughly packed into the parking lot, awaiting our turn to move forward a foot or two at a time, some Clown decided to turn Magician.
He, apparently, decided that he'd had enough of the traffic, and that the traffic would have to go. So, he did an amazing thing. Something I'd never heard anyone do in any of the school parking lots I've spent what must add up to years of my life waiting in.
He began to blast his horn.
This Clown, who's champagne colored sedan was completely boxed in on all sides, laid on his horn with vim and vigor. I'm not talking about a couple quick toots to get the attention of his clueless teenager, who was standing 20 feet away, but somehow still failed to see him. We've all done that.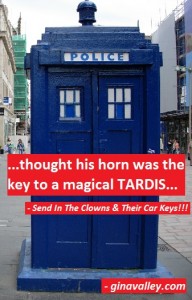 Not this guy. He pushed and held his cars horn on for a good minute at a time. Over and over and over again.
At first, I and several other drivers were concerned that he was perhaps having an emergency of some kind, and seeking help. But, he was not.
Nope.
He was just attempting to use his horn to make the 117 other cars in that parking lot disappear. Apparently, he fancied himself a Magician, and didn't realize he was just another Clown in the The School Parking Lot 3 Ring Circus. Perhaps he was the biggest clown of all, deluded as he was.
I'm not sure if he thought he had magical powers or his horn was the key to a magical TARDIS, but either way, his show, loud though it was, was great fun to watch. My daughters were giggling about it before they even reached our van.
We giggled along with his serenade all through the long wait for our turn to exit the parking lot. We giggled all of the way to their brothers' school. Then, they told their brothers about the Main Event, and my sons joined in on the giggling all the way home.
That's the great thing about the circus.
Everyone goes home laughing.
And, a bit afraid of the clowns.
Laugh Out Loud!
-gina
Click these links to get all of the giggles from Ring #1 – The Circus Parade Of Idiots: Coming To A School Parking Lot Near You!!! and Ring #2 – The School Parking Lot 3-Ring Circus, so you don't miss any laughs.
Have you been to the circus lately? How about to the school parking lot? Are you afraid of clowns? Shoot me a comment. I'm looking forward to hearing all about it.
Photos courtesy of 
Stock.xchng
 – Used with permission