I Really Am A Horrible Person      
by Gina  Valley
I knew that my I Am A Horrible Person post would be perfect for Throwback Day this week.  When you read it, I hope you'll agree. 
You can read my I Am A Horrible Person post below in its entirety, or, for you hardcore readers, you can click on one of these magic links, and read my I Am A Horrible Person post in its original location.
Either way, I'll meet you at my I Am A Horrible Person post.  You bring the mashed potatoes (I have chickens cooking.  It smells so good!), and I'll bring the laughs.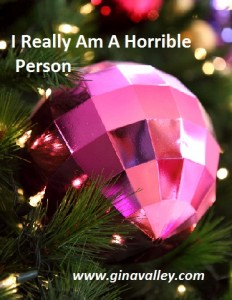 I Am A Horrible Person
I hate those November Daily "I'm thankful for…" posts on Facebook.
I am a horrible person. I admit it.
I know that's terrible.  It's such a nice thing for people to do.  I have even complained about people's general lack of gratitude on several occasions.
But, I can't help myself.  I hate those.
I don't know what exactly it is about them, but the second I see one my eyes involuntarily roll so hard I can see my brain.  If they're numbering the days then I get a solid two rolls in.
I'm especially horrible because I have done the whole November daily "I'm thankful for…" on Facebook thing myself before, and even then it irritated me.  That's got to be more than wrong.
Why can't I rejoice instead of grimace when Sally broadcasts how thankful she is for all her Great Aunt Marge has done for her?  You remember Aunt Marge.  She's the one who ran over Sally's foot with her car last year, and then set fire to Sally's Christmas tree after Sally brought home a brochure from Golden Acres.
Maybe Sally ought to be expressing her thankfulness for quality insurance coverage and a low deductible!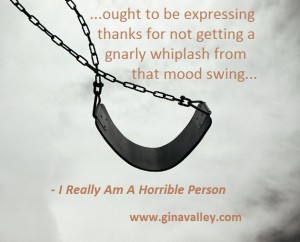 How come I have trouble swallowing Lannie's expression of thankfulness for "everyone in my life – you know who you are!"?  Obviously, Lannie is happy to share her feelings about people, since 3 weeks ago she pointed out that she has been stabbed in the back by "everyone in my life – you know who you are!"
Lannie ought to be expressing thanks for not getting a gnarly whiplash from that mood swing.
And, much as I am rejoicing along with Deena that her little Lawrence has overcome his biting habit and moved on to "bigger and better" things, I have a kid in the class next door and I'm not sure that goosing his teacher every time she walks by is truly bigger or better.
Perhaps Deena ought to be grateful Ms. Spritz is not litigious.
Maybe I'm just envious because no one wants to hear that I'm thankful we figured out a way to make concrete at home, which involves running a full canister of oatmeal (quick cook or regular) through the dishwasher. Twice, apparently.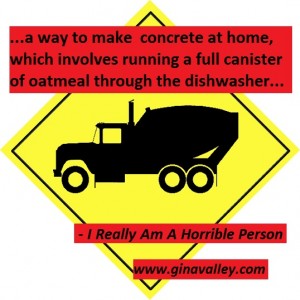 Or, perhaps I'm jaded because no one seems impressed that our dog has finally figured out which door leads to the outside, and no longer goes into the powder room or  garage while trying to get out of our house. Most of the time.  Well, more like 50/50, but still an improvement.
I don't know why I can't seem to bring myself to be whole heartedly-supportive of the Facebooky thankfulness efforts of others.  I really should figure out why that is.
But not right now.
Right now I gotta update my Facebook with "I'll be thankful when these stupid 'I'm thankful for…' things are done."
I mean that in a thankful way.  Of course.
Laugh Out Loud!
-gina
How do you feel about those November daily thankfulness posts on Facebook?  What do you feel guilty about being irritated by?  Are you a horrible person, too?  Should we get matching t-shirts?  Nothing white, though.  I'm a spiller!  Shoot me a comment.  I look forward to hearing what you think.
Photos courtesy of 
Stock.xchng
 – Used with permission