Pumpkin Should Be A 4 Letter Word…Gina's Favorites
by Gina Valley
Laugh out loud with this Gina's Favorites post.
Pumpkin Should Be A 4 Letter Word
I know its fall, but why am I being punished?
Isn't it enough that it's sweater-weather in the morning, and then it warms up to die-if-you're-wearing-a-sweater-weather in the afternoon?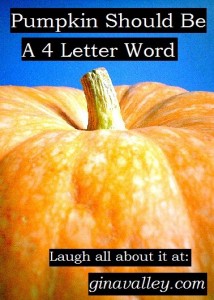 Or, how about the fact that now, thanks to the fall leaves taking a dive, even outside needs vacuuming?  Like I needed something else to clean.
The homework avalanche is already threatening to swallow my children, even though school has just begun.
My neighbor has a new diesel mulcher he fires up each morning in the pre-dawn hours.
And, someone already ate all the candy I bought for Halloween, so I'm going to have to buy it again.  For the 3rd time.
Why, in addition to that, am I being forced to endure Hyperpumpkinization?
I don't want pumpkin scented toilet paper or fabric softener or WD40.
I don't want pumpkin shaped notebook paper, Scantrons, or world globes.
I don't want pumpkins pictures on my nicotine patch , my parking ticket, or my contact lenses.
I don't want pumpkin flavored hamburgers or cola or cough medicine.
My green tea already tastes like seaweed; don't offer me a dollop of pumpkin-infused-whipped cream to push it over the top toward barf-inducing.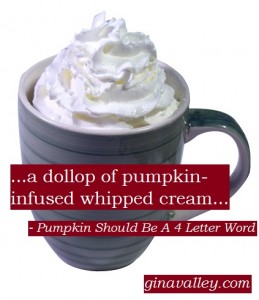 It is not Having It My Way when you offer me pumpkin slices on my Whopper Junior at Burger King.
And, does anyone really want pumpkin flakes added to their chocolate shake?  Isn't that blasphemy or something?  Check Exodus.  I think it's one of the commandments.
There's even pumpkin flavored puppy chow.
For the love of all that's not squash -related, make it stop!
We don't do this with spring, except if you count Shamrock shakes, and I don't think those really count.
We don't do it with winter.  Have you been asked, "Would you like your latte flavored with our seasonal Snowflake & Pine needle blend?"
We don't do it with summer.  No one offers you Beach Flavored Ice Cream with a sprinkling of freshly ground sand on top.
So, what the heck is the deal with the pumpkins?
Is there some sort of Pumpkin Mafia behind this?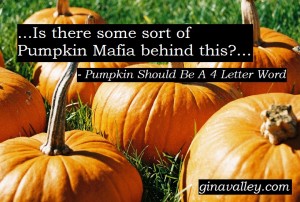 Is there an Illumipumpkinati at work?
Did someone spread fairy pumpkin dust all around that turned every area of life into another pumpkin showcase moment?
Stop the madness!
I'm getting stabby.
My fork is poised.
I swear if the guy at window #2 asks if I want pumpkin dipping sauce for my kids' pumpkin-shaped chicken nuggets, someone's getting stabbed.
Laugh Out Loud!
-gina
Are you pro-pumpkin?  Do you pumpkin-up your latte or value meal?  Or, are you in the "leave non-pumpkin stuff, non-pumpkin" camp?   Have you started putting up Christmas decorations to distract yourself from over-pumpkinization?   Shoot me a comment.  I'm looking forward to hearing all about it.
Photos courtesy of Stock.xchng – Used with permission