I Do NOT Want A Picture Of  Poop!!!
by Gina Valley
No, I don't want a picture of poop.
I don't care how amazing it is.
The two puppy parents in our home, who just happen to be my two eldest sons ("eldest" sounds so proper and dignified, doesn't it? Too bad I'm talking about poop now), have worked out a detailed schedule to determine whose turn it is to pick up the puppy poop in our backyard on any given day: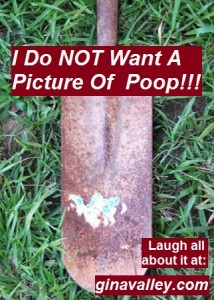 Today, I'll forget to do it & tomorrow you can forget.
Our backyard was starting to look like a free-range poop farm. I told Son#2, who'd made the mistake of being home at the time I was looking out the window at the ever growing droppings display, that I didn't care whose day it was to pretend it wasn't their day, he needed to round up those deposits.
Son#2 accepted his fate with a minimal amount of complaining, so I knew he'd suddenly become mature and interested in helping out around the house. Or, more likely, it'd been so long since he'd taken on doody duty that he couldn't remember when he did it last to complain effectively about having to do it again.
Either way, I was happy to see him head out, shovel on shoulder, bucket in hand, and boots on feet. I made a mental note to remind him to throw out that bucket as soon as he was done. And, maybe the shovel. And, the boots, too.
Foolishly, I went about my business, and forgot all about my poop-processing progeny. I'm not sure how much time had passed, as I was lost in the allure of cleaning out the dryer vent hose, but it couldn't have been very long before my scat-gathering son returned. He was giggling, always a frightening sign from someone engaged in poop-removal.
"Mom, where's the camera?" he barely managed to get out between bursts of giggling.
"Why?" I asked a bit suspiciously, and more than a bit afraid of the potential answer.
"I just saw the coolest poop."
So, there you have it. The one phrase that sums up the essence of what it means to have children and pets, because without them both you won't likely ever hear the phrase "I just saw the coolest poop," much less have the fortitude not to run away screaming.
Perhaps sensing I wouldn't likely ask for further details, my 2nd oldest child and Poop-Czar for the day continued, "What do you call it when things are hooked together, like, you know, those twins?"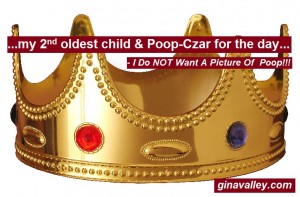 "Conjoined?" I offered timidly.
"Yeah, conjoined. That's the word. You know how sometimes the mini-Snickers don't get cut apart all the way, and a couple of them are still conjoined when you open the bag?" he continued brightly.
I could not think of a good way for this description to end, but I was too fascinated to run away. He had, after all, brought mini-Snickers up, so he definitely had my attention.
"And," he continued his tale, "you know how Bear [his 100 pound puppy] snarfs down candy whole in the wrappers?"
I knew I wasn't going to like where this tale was heading, but it was like a car accident. I just couldn't turn away.
"Well, he must have gotten a bag of mini-Snickers, because he's got some major sparkly poop piles going out there. But, one of them is the coolest poop I've ever seen."
I threw up a little in my mouth.
"I guess he ate some conjoined mini-Snickers, because this poop has 3 of them in it, still hooked together."
I realized I would never be able to eat mini-Snickers again.
"And, it's all wrapped up in grass and slime and poop, so I think it must've upset his stomach."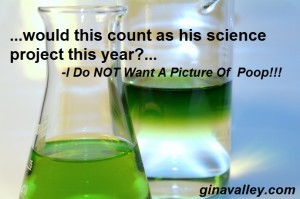 It certainly upset my stomach.
"Dogs eat grass when their stomachs are upset, right?  I think the candy upset his stomach, so that's why it's wrapped in grass."
Who says my kid isn't into science? I wondered if this could this count as his science project this year.
"With that green all around it, it kinda looks like sushi. Poop and Snickers sushi!"
And, now I will never be able to eat sushi, either.
"Do you want me to take a picture of it?" he asked.
This child of mine, who complains that my taking first day of school pictures of him and his siblings is a waste of time, and thinks that taking pictures of birthday cakes is ridiculous, was volunteering to photograph dog poop for me.
I wasn't sure if he was thinking we should put it in the puppy's baby book (not that we have a baby book for the puppy) or use it as a holiday card (it did have green and gold in it) or post it to scare people online (finally something truly hideous to pay back all those Facebook friends who put post-op and infection pictures on their walls), but, tempting as all that was, I knew what I had to tell him.
"Thanks for offering,…"
"but,…"
"I do not want a picture of poop."
Laugh Out Loud!
-gina
Who handles output removal at your house? Ever seen any cool ones? Do you have a Facebook friend who posts gross stuff? Shoot me comment. I'm looking forward to hearing all about it.
Photos courtesy of Stock.xchng – Used with permission