Pause
by Gina Valley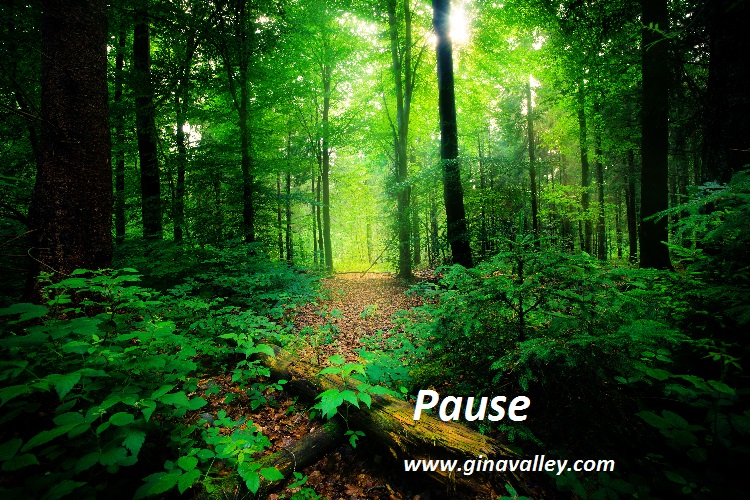 Peace
Trouble flown
Breath savored
Thoughts quell
Harmony sings
Hush spreads
Calm flows
Tranquil grace
Beautiful still
-gina valley
There's something beautiful about quiet.
It's a rare thing in my life.  Probably in yours, as well.  Even without children and spouses and pets, our world is filled with noise and intrusions.   It's hard to complete a thought with the constant interruptions.
We've learned to adapt, to make decisions and to carry on, in the midst of the chaos of life.  We have to.  Life rarely gives us a pause.
But, I need a pause.  We all need a pause.  So, we have to force ourselves to take it.
I love the feeling of peace in my house when I rise before everyone else.  I can almost taste the peace, as I breathe it in.  That's one of the reasons I consistently rise before, not only my children, spouse, and neighbors, but also the sun.
My work is essentially putting thoughts to paper.   Well, thoughts to a word processor is, I suppose, more accurate.  I need that quiet for clarity.  Otherwise my mind feels like muddy water, and I'm unable to grasp the thoughts, much less hold on to them long enough to type them out.
Much as I need the quiet for work, I need it even more for me.  I need to have a quiet time daily to nourish my soul.
When my life feels too heavy and the weight starts to crush me, invariably I haven't been having a quiet time.  I suppose, in a way that makes sense.  When I'm stressed because I'm extra busy, when I find myself well off the path, I'm less likely to take that 45 minutes to be alone to read The Word and to pray.  But, at the same time, it's almost ridiculous that I don't take that time, because when I am stressed and busy is when I need it most.
It never ceases to amaze me that I will fail to do what I know is best for me in the long run, so that I can deal with something of short term value.  Don't tell my family I've admitted this, but I think I'm a bit hard headed.
This time of year has extra stress.  I need, you need, we all need to make it a point to take a pause daily, even if it's just a short one.  We need to sit and listen to nourish ourselves.
We all have too much to do.  So, if we really want to get as much of it done as possible, we need to force ourselves to stop doing it, and to take a pause every day.
Give yourself that gift this season.  Take 30 minutes to sit quietly, alone, uninterrupted.  You'll really be giving a gift to everyone in your life, because, not only will your pause of action set a valuable example, it will make you a better you.
Love!
-gina
Do you try to have a daily quiet time?  What do you think is the key to it?  Shoot me a comment.  I'm looking forward to hearing all about it.