Ode To The Invisible Trumpet
by Gina Valley
My 13 year old son, let's call him by his self-chosen name, "Oh Yeah, I Forgot About That," plays the trumpet.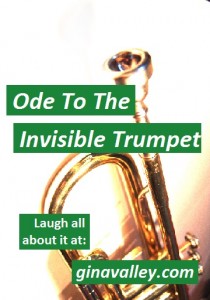 He got this self-chosen moniker due to his choice in answers to the post-school queries I've learned to ask him while still in the school parking lot each day, so as to avoid making three different trips back to the school for forgotten items:
"Did you bring your math homework?"
"Oh Yeah, I Forgot About That."
"Where is your history project assignment sheet?"
"Oh Yeah, I Forgot About That."
"Don't your PE clothes need washing?"
"Oh Yeah, I Forgot About That."
"Where is the form you wanted me to sign?"
"Oh Yeah, I Forgot About That."
He invariably has to jog across the large campus to return to his locker or one of his classrooms to retrieve a forgotten academic item each day after school, while I wait in the parking lot. Sometimes, he has to make 2 trips. Occasionally, he's had to make 3 trips.
This is why I always bring a magazine to the carpool lane.
This son of mine, "Oh Yeah, I Forgot About That," started playing the trumpet last year, and has made amazing progress, particularly for someone who rarely practices. His teacher pointed out that he's gifted with the ability to produce a clear, powerful tone, which many young trumpet players never develop.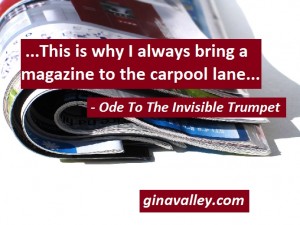 His teacher also pointed out that he encourages all of his students, including our dear boy, to practice every day, even for as little as 20 minutes. He told us the development and growth in our son's skill, not to mention his grade in band, which is based heavily on a practice log, should he do this consistently, would amaze us.
We prepared to be amazed.
As part of that preparation we, as in me, decided the simplest method for "Oh Yeah, I Forgot About That" to use to ensure maximum compliance with this practice nearly everyday thing was for him to bring home his trumpet every single day, regardless of whether he thought he'd have time to practice it.
This also simplified the rare instances when someone other than me picked him up from school, as everyone was told he and the trumpet were a set, and not to show up with one without the other.
The Trumpet Home Every Day Method has worked quite well for us.
Until today.
This morning, to be precise.
This morning the Trumpet Home Every Day Method made everyone late for school and nearly brought on tears. And, not just mine.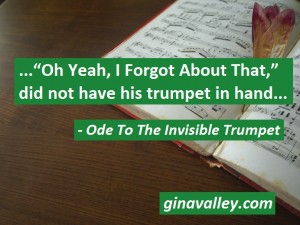 When it was time to get into our van to leave to begin the morning drop off circuit to my children's 4 different schools, my son, "Oh Yeah, I Forgot About That," did not have his trumpet in hand.
I raised an eyebrow and asked, "Trumpet?"
"No problem, mom," he answered happily. I left it in the van because I knew I wouldn't have time to practice it since I was going to be at camp all weekend."
I operate on a "Trust, But Verify" channel of parenting. "Great," I said. "Go get it."
"But, mom," he whined in an impressively skillful, well-practiced way, "we're going out there anyway."
"I don't care. Go get it. I want to see that you have it." It's not my first time at this rodeo, and I'm not falling for the "I swear it's already in the van" line.
Much grumbling and foot stomping ensued as my young off-spring plodded out to our van. He was gone longer than expected, and returned empty handed.  "It's not there! I know I left it there! Someone stole it, mom." He was nearly frantic.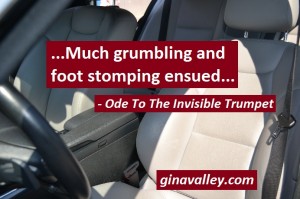 Then, I remembered. "Your dad cleaned out the van while you were away at camp this weekend, so we could drive your sister and her friends to their dance. He probably brought it in. It's probably right in the cubby behind your bedroom door, where it goes. Go grab it quickly. We have to go."
Well, it was not in the cubby it goes in. It was not on the floor of his room. It was not in his closet. It was not even tucked into his bed (I found it hiding there once before).
It was not in the upstairs' hall, nor in the kids' bathroom. It was not in anyone else's bedroom. It was not in the entry way, the kitchen, or the garage. It was not in the laundry room, the yard, the dog house, or the dining room (I don't know why so many things that go missing end up in our dining room).
It was nowhere to be seen. Everyone panicked and began re-searching every room, while I called The Professor, who I knew was teaching a class.
"Where'd you put the trumpet when you cleaned out the van?" I asked, after he answered my call in a hushed tone, which told me he was in the middle of class.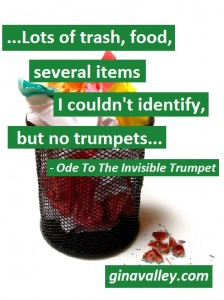 He sighed, and I knew he was wishing he hadn't answered the call. "I didn't see any instruments when I cleaned out the van. Lots of trash, lots of food, several items I couldn't identify, but no trumpets."
Crud. He was no help.
Search Round 2 netted no trumpet.
Everyone was stressed out, which is, after all, the best way to start the day.
We were running late, and still had not located his trumpet. "Oh Yeah, I Forgot About That" was mad and mumbling and demanding to know who stole his trumpet, as he stomped into our van and slammed the door. The child was obviously upset, necessarily upset, and appropriately upset. He didn't have the materials he needed for his favorite class. He was also exhausted, having spent all weekend at camp.
The thing about playing trumpet in band at school is that you must have the trumpet with you at school to play the trumpet in band at school. If you don't, the band teacher almost always notices right away.
And, it's not like a pen or paper or gym clothes, which you can borrow from someone when you're in a pinch. No one's carrying around an extra trumpet in their backpack.
As "Oh Yeah, I Forgot About That," who was rapidly degenerating into "He Who Whines And Stomps," got out of our van at his school, I reminded him to ask his teachers for the work he missed when he left school early on Friday to go to camp.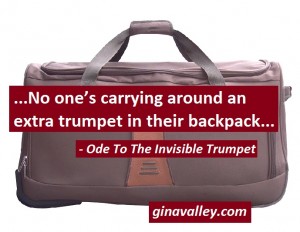 Suddenly, "Oh Yeah, I Forgot About That" broke into a big smile.
"Mom! I know where my trumpet is! The band room was locked when I left early on Friday, so I couldn't get it. It's in its locker in the band room!"
Before I could congratulate him on this sudden remembrance, my 14 year old son, blurted out, "Are you kidding me? You had us all search for a half an hour and made us all late to school and the stupid thing was already at school the whole time 'cause you didn't even bring it home?"
"Oh Yeah, I Forgot About That" just smiled at him and said, "Oh, yeah, I forgot about that."
Laugh Out Loud!
-gina
Do you have a particularly forgetful family member? Any items in your home prone to disappearing? Shoot me a comment. I'm looking forward to hearing all about it.
Thank you for joining me here to share in giggles, and for sharing my posts with your family and friends on your social networks. I appreciate all of your support.
Photos courtesy of Stock.xchng – Used with permission