Top 10 NON-ORNAMENTS Found On Our Tree
by Gina Valley
It's beginning to look a lot like Christmas.
Sort of.
Our tree is up, and that's something.
Most of the rest of our decorations will make their grand entrance this weekend, giving my older kids time to finish their final exams at school, and everyone time to catch the chest cold that has started running through our family.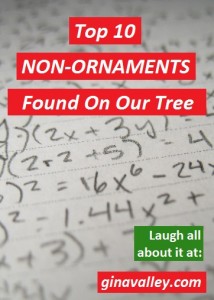 We should be able to cough Jingle Bells as a family by Sunday night.
With our tree up and decorated, at least it looks like we're well on our way down the road to that magical Christmas place, touted by Martha, HGTV, and every ad on television.
The thing is, though, I'm not sure all those stylists of the holidays, all those cliché'rs of culture would consider our tree the iconic centerpiece of our holiday home they say it's supposed to be.
Sure, it's covered with shiny ornaments and garlanded in elegant ribbon. Yes, it's got the requisite train track running around it (although no one seems to know where the actual train disappeared to). It's even got the lovely embroidered skirt my sister-in-law got us in Italy wrapped around its trunk.
But, this morning, as I clicked on its lights and stood back to admire its loveliness,  I noticed our tree has a few added "flourishes" sprinkled amongst its bobbing branches that might give those professional holiday stylists pause, if not lumps in their egg nog.
Top 10 NON-ORNAMENTS Found On Our Tree
#10.  Slim Jim Wrapper – The nasty supposed-to-be-meat-but-I-suspect-nothing-in-it-was-ever-alive-product stick is missing, but its charming packaging is snuggled into a branch 2/3 of the way up our tree, gleefully reflecting the twinkling lights.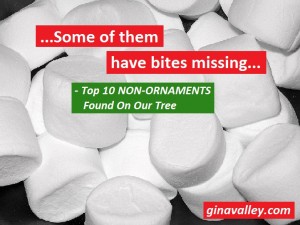 #9.  Marshmallows – I think someone was trying to make it look like our tree had snow on it by distributing the white fluffy treats all over it. It probably would have been more authentic looking if they hadn't used the giant marshmallows I bought to use to make S'mores with. Some of them have bites missing, too. I guess "Mother Nature" was hungry.
#8.  Daughter#3's Math Quiz – The grade at the top of the crumpled paper, shoved into the lower branches, reveals she scored an 82%. Therefore it might just be a Christmas miracle, since her current average in that class is about 20 clicks south of that score
#7.  Gobs Of Dog Hair – It looks like the bottom couple of feet of our tree has been flocked. However, upon closer inspection, one sees that it's not artificial snow, but rather real-life blonde Labrador hair. Bear, our giant yellow lab, finds the tree a convenient scratching post, and makes a furry deposit every time he has an itch.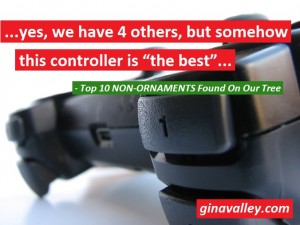 #6.  The Black Xbox Controller – Son#4 was trying to hide said controller from Son#3.  But, Son#3 found it and decided to relocate the treasured controller (yes, we have 4 others, but somehow this one is "the best") from where Son#4 had hidden it (inside the box of paper towels, underneath the powder room sink) to a top branch on the back of our Christmas tree.
It's hard to spot as one gazes at our Tannenbaum in all its glory in our living room, but clearly visible to anyone who walks across our front patio and happens to glance at our front window. If only my kids would apply these skills to locating their shoes when we're late for school in the morning.
#5.  A Tiny Milk Carton – It's one of those small milk cartons from the cafeteria at school. Son#4 was supposed to adhere graham crackers to it with frosting to make a gingerbread-esque Christmas ornament, like the rest of his class did last week, during their arts and crafts time. But, Son#4 ate all of his frosting and most of his graham crackers, while waiting for his teacher to finish giving the instructions to complete the cracker-based architectural wonder.
His teacher didn't have any extra supplies, so, quite unfazed, Son#4 attached the ornament hook to the top of the carton and called it "Done!" His teacher was horrified that he'd bring something home like that. I wonder what she'd say if she knew he hung the little, naked, still-somewhat-stinky milk carton on our tree.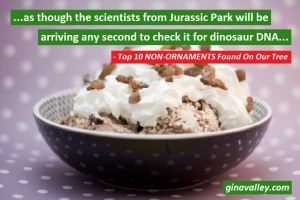 #4.  Chocolate Chip Ice Cream Splatter – Daughter#2 "accidentally" tripped Daughter#3, who then fell into the tree, losing her cup of ice cream deep within its ever-green, now ever-sticky, branches. She eventually retrieved the cup, but the thick, sticky delightful dairy treat hardened and remains, solidified in a dripping pattern, as though the scientists from Jurassic Park will be arriving any second to check it for dinosaur DNA.
#3.  A Large, Long, Bright Yellow Automotive Oil Change Funnel – We usually use that funnel to water our tree, but this year we're using our artificial tree, making watering it less than necessary.  But, Son#2, who in general "could  live without this whole 'decorate everything' thing" said that it wasn't Christmas without the giant yellow beast, and placed it prominently among our petroleum-products-based tree's many boughs. I'm not sure "Christmas" is the word that springs to mind when you see it, but I know the word "classy" definitely is not.
#2.  The Professor's Cell Phone – He rarely makes it out the door with his cell phone, and when he does, it's either uncharged or turned off, rendering him quite unreachable either way. The monthly fees for that communication device are clearly money well spent. When I saw it there, my first instinct was to call him to relate the latest "Where's Waldo?" about his phone. At least I realized my goofiness before I started dialing. This time.
#1.  A Santa-Hat-Shaped Ceramic Plate – It's the plate we put cookies and carrots on Christmas Eve to leave out for Santa and his reindeer (The Professor gets the cookies. I get the carrots. Dang, low-carb lifestyle). We can never find that blasted thing on Christmas Eve.
Frequently, we've had to make do with some less than acceptable substitutions: The box the rolls of tape came in; a slightly-used paper plate ("Santa's not going to care. He's not real anyway. It's just dad eating the cookies and he doesn't care if his dishes are clean, right?" as Daughter#2 put it); the lid from the shoe box I was hiding the latest Halo game in for Son#1; etc. So, I told one of my pack members to put the plate where we could easily find it, and, apparently, that was the place selected.
Could be worse, I guess. At least we don't have any squirrels living in there.
Probably.
There's no place like home for the holidays.
Laugh Out Loud!
-gina
Anything interesting made its home amongst your holiday decorations? Any squirrel squatters? Shoot me a comment. You're already here, and I'm looking forward to hearing all about it.
Photos courtesy of Stock.xchng – Used with permission