Top 10 Reasons You Can't Go To Work The Day After New Year's…Gina's Favorites
by Gina Valley
I'm traveling with my family this week, so to keep you in giggles, I've loaded up some of my favorite posts.  Laugh along with this 
Gina's Favorites
 post.
Top 10 Reasons You Can't Go To Work The Day After New Year's
There is nothing less revelry-like than trying to get to work after revelry-ing in the New Year. You've had relatives, cookies, and hyper kids to deal with.  You've had no sleep, a big plate of rumaki, and some iffy imbibing decisions.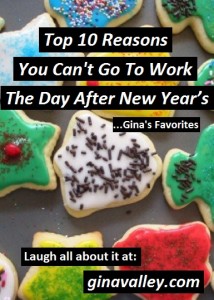 What you need today is to sleep without ceasing.  But, your boss expects you to show up ready to accomplish great things.
What if you don't feel inspired?  What if you don't feel recharged?  What if you don't feel your legs?
What do you say when you call in to explain, knowing your boss is ready to come back with, "You haven't been to work since last year!"?
Don't worry.  I've got your back.  I'm a giver like that.
Top 10 Reasons You Can't Go To Work The Day After New Year's:
#10  I was helping put the final touches on the floats for the Rose Parade, and I'm glued to a giant, purple flower-covered octopus.
#9  I ate too many Christmas cookies and I can't squeeze my arse out of my front door.
#8  The battery in my clock is dead, so I'm still waiting for New Year's Eve to end.
#7  I'm making my list of New Year's resolutions and the first one is to finish my list of New Year's resolutions.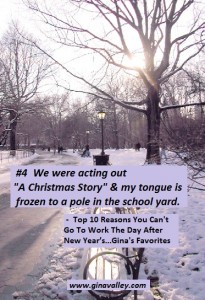 #6  The hideous Christmas sweater my Aunt Sheila knitted for me got tangled in the branches when I dragged our Christmas tree to the curb, and no one can find any scissors to cut me out.
#5  My dog ate my homework (that always applies, right?).
#4  We were acting out A Christmas Story and my tongue is frozen to a pole in the school yard.
#3  My cousin Bernie put all my underwear in the freezer, and I'm waiting for them to thaw out.
#2  The ladder fell over while I was taking down our Christmas lights, and I'm hanging from the rain gutter.
#1  I started my New Year's exercise program yesterday and I can't lift my arms, bend my legs, or turn my head today.
I can get you a note, if you need one.
Laugh Out Loud!
-gina
Were you bright-eyed and bushy-tailed, bounding out the door this morning?  Or, were you leaning more toward red-eyed and tail-dragging, crawling out the door?  Shoot me a comment.  I'm looking forward to hearing all about it.
Photos courtesy of Stock.xchng – Used with permission