Near Death Shopping Experience
by Gina Valley
So, I'm in line at the discount store.
You know, the one you don't have to comb your hair to go to?  The one that, judging by several of the women who paraded by, is also bra optional.
As is typical, 4 of the 206 registers were open.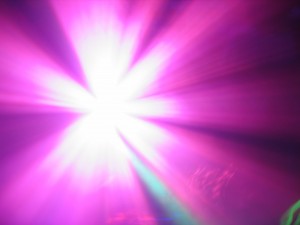 I naively thought I was lucky in landing only 4 back from the register.  After all, how long could this possibly take?  Famous last words!
After having moved exactly NOT AT ALL!!! after literally 20 minutes I realized those might be my last words.  I looked at The Professor and said, "I think we will die here."
"When you see the light try to fall into the cart, so I don't have to drag your body through the line," he answered, practical to the end.
I was not the only one performing last rights.  There were multitudes fading fast in every lane.  Tempers were shorter than the lines were long.  Holiday cynicism was at a peak.
But, as I stood there corralled by the Not-Available-IN-Stores merchandise and a rack of Pillow Pets Jr., staring at the distant cashier as she moved at nearly the speed of slow motion, something caught my eye.  It was a glimmer of hope. A spark of life.
I suddenly felt the will to live re-entering my body.
I could feel it swelling up within me until I was sure I would burst.  I had to tell someone.  I looked at The Professor.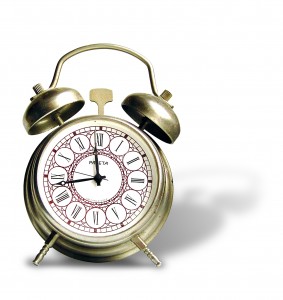 He was standing next to me, leaning against the Pillow Pets and the Not-Available-In-Stores Tortilla Bowl Shapers.  He seemed to be deep in thought studying the empty gum cases.
I hated to  disturb him, but I had to tell someone, and everyone else in our line, aside from being perfect strangers, seem to be either angry, comatose, or both.  I decided to go ahead and wake The Professor up.
I jabbed his arm.  Repeatedly.  He finally woke up muttering, "Whoa, debit.  No! Credit."
"Honey," I whispered excitedly.
He leaned back against the magazines and said, "Five more minutes," and then flopped his hand on my head, apparently looking for the snooze button.
"Wake up.  Wake up!" I implored as I shook him.
As he regained lucidity and checked his watch, he asked, "Is it our turn?"
I laughed.  That man is so funny. Like it could be our turn.  We'd only been in line for 25 minutes at that point.  We hadn't even moved.  "No, but look.  Look at his cart," I said, while pointing at the cart the guy in front of us was pushing.
"Yeah?  So?  It's full. Wake me up when we move forward more than 24 inches," he mumbled as he rearranged his Tortilla Bowl Shaper pile pillow.
"But, look at it," I implored.  "Look what he's buying."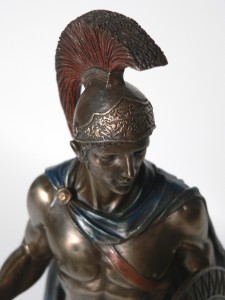 The Professor opened both eyes and looked intently toward the cart in question. Then, he looked quizzically at giddy, fidgety me.
I'm sure he was a bit unnerved by my smile, which was undoubtedly wrapped all of the way around my head at that point. Probably, memories of past cart content alerts from me, like the time I spotted the creepy man buying only marshmallows, Spaghetti O's, and 15 boxes of condoms, weighed heavily on his mind.  He thinks I shouldn't look in other people's carts.  I've told him that I have to because it's material for my job (like right now!). He said that I couldn't quote what he said after that.
Our cart was full of exciting discount store staples like socks, deodorant, Lean Cuisines, sweatpants, and paper plates. I might have tossed one of those Tortilla Bowl Shapers in there, too.
The guy in front of me had a cart full of colored pencils, a pile of arts and craft sets, 4 big boxes of crayons, 3 Easy Bake Ovens, 2 dolls, a stack of picture books, 2 Little Tykes trucks, a tub of Legos, and a bunch of glittery hair ties.  There was festive paper and bows on the rack underneath.
We were shopping for daily life & hygiene essentials.  He was not.
I quietly said to The Professor, "He's Christmas shopping for kids."  I think I squealed a little, because he gave me that look.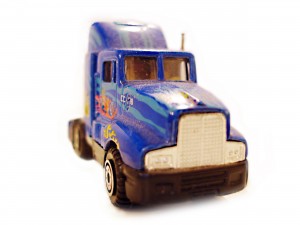 I don't know why, but for some reason just knowing that he was there to do something nice for children made me happy.  It made me pep right up.
The Professor looked at the cart again.  At first he had his "I will humor my crazy wife.  Again." look on his face, but I noticed a smile rapidly taking over.  "He is, isn't he?" The Professor said to me.  "Definitely has a cart full of kids' gifts."
It's obviously not unusual to see someone Christmas shopping the first week of December, but there is something special about seeing a cart solely devoted to children's gifts.  I'm not sure why it's so special.
Maybe because it's rare to see a cart filled only with toys.  Maybe because we all love the thrill of being a child at Christmas. Maybe because a little kid started this whole Christmas thing.  I don't know.  But I do know that I wasn't the only one who soaked up some joy and holiday energy just looking at that buggy full of kids' stuff.
The guy behind us pointed it out to his wife.  The kid in the basket behind them craned his neck to see.  His mom smiled when she caught sight of it.  Pretty soon people in the lines on either side of ours began to notice.  People stood straighter, straining to see.  Scowls melted. Smiles appeared.  All across what had been a bastion of human misery joy spread.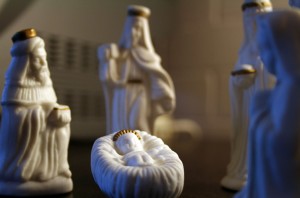 It was just for a few minutes.  We'd all be on our way soon. Hopefully.
But, there was something exciting, renewing about seeing how a basket of toys melts the hearts of a bunch of tired people who haven't been kids for a long time.
I don't know if it was the Christmas Spirit or not.  But, somehow I'm sure the original Christmas Kid was smiling, too.
Laugh Out Loud,
-gina
What springs to your mind when you see a bunch of toys?  Shoot me a comment.  I'm looking forward to hearing all about it!