You could say that Monday mornings at our house always go smoothly,…
…if by "smoothly" you mean "not smoothly at all."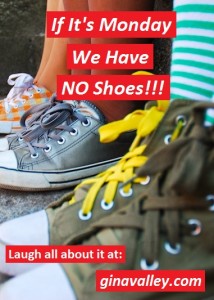 No matter how well we start off on Monday morning, we're always done in by a familiar, formidable foe: shoes.
On Monday morning, my kids not only don't know where a pair, or often even a single shoe, that fits and belongs to them is, they also apparently suffer from some sort of weekend neurological impairment that makes them unable to remember what a shoe is at all.
"Shoes? What are shoes?"
"Aren't those from some ancient tale Great-Grandpa Bernard tells?"
"I don't believe I've ever heard of shoes."
"I'm certain I've never had to wear shoes to school before. I'm sure I'd remember something like that."
Now, it's not my first time at this rodeo. Don't think I don't require each of my kids to find and show me an appropriate pair of shoes on Sunday evening, in an effort to avoid the Monday morning madness.  I do.
I've even gone so far as to collect everyone's shoes Sunday night, and, after my children are all asleep, to make them easy to find, I've lined the shoes up in front of our fireplace, creating what looks like some odd twist on the whole Christmas stocking thing.
But, to no avail.
When it's time to rush out the door to start the school drop-off circuit, someone is always shoeless. Usually a couple someones are.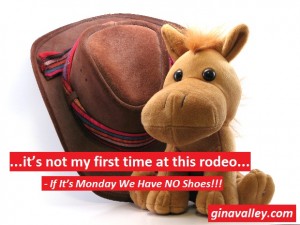 So, imagine my surprise this morning when the pre-departure shoe check in our van revealed that every child was not only wearing shoes that belonged to and fit said child, but also had chosen foot wear appropriate for the chilly SoCal winter morning.
I was shocked. Shocked!
So much so, that I didn't even notice The Professor knocking on my window as I started our van. Luckily, one of our pack mentioned that their dad was trying to get my attention before I drove away. Usually that sort of information goes the way of urgent phone messages, and isn't mentioned until after a week or so has passed.
I was surprised to see him because I thought he'd left for work a half hour earlier.
"Why are you still here?" I asked, as I rolled down my window.
He said, "I can't find any of my shoes."
I rolled my window back up.
Laugh Out Loud!
-gina
What disappears around your house? Are Monday mornings smooth sailing or rough seas at your house?  Shoot me a comment. I'm looking forward to hearing all about it.
Photos courtesy of Stock.xchng – Used with permission