We All Like It Cheap & Easy
by Gina Valley
Today I'm talking Valentine's Day gifts with the guys over at DadsRT.
It's always fun hanging out with them, so hop on over and join us for my
Top 10 Cheap & Easy Valentine's Gifts To Make Her Swoon  post.
Here's a snippet: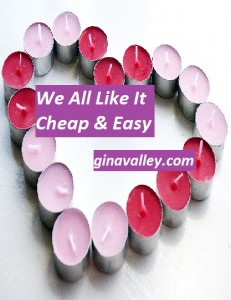 You know, guys, you aren't the only ones who like it cheap and easy.
Showing your special someone that she's your special someone doesn't need to break the bank or require a masters in design or psychology.
Just make an effort to show us you're thinking about us.
Just make a fuss about how important we are to you.
Just make one of these 10 Valentines.
#10.  Buy a fancy vintage tea cup and saucer at a second hand or thrift store.  Fill the cup with foiled chocolate hearts.  Put fancy tea bags around the saucer.  Wrap it in cellophane (like an Easter basket has around it), and tie it at the top with a pretty red ribbon.  Attach a note that includes "You're my cup of tea! I love you, Valentine!"
#9.  Cut out 25 red and pink hearts, each at least a couple inches across, out of construction paper.  Write one thing you love about her on each heart. Fold loosely. Put in a new jar (buy at a discount store)(make sure it has a lid).  You can even man-it-up a bit by spray painting the lid red first, if you want to.  Stick a label on the front that says "Just A Few Of The Things I Love About You, Valentine."  Tie red ribbon around the top…
So click on one of these magic links & meet me over at my Top 10 Cheap & Easy Valentine's Gifts To Make Her Swoon post on DadsRT.
As always, the extra click counts as cardio.
Laugh Out Loud!
-gina
What do you like to give or get for Valentine's Day?  How do you remind the special people in your life that you love them.