A Foot-Mounted Lego Detector #25daysofwhatIwantforChristmas
by Gina Valley
I want a Foot-Mounted Lego Detector for Christmas.
I have a special talent. If there's an AWOL Lego piece within 50 miles of me, I will find it with my bare feet.  If it's dark and I'm in my sons' room, I'll find all its friends, neighbors, and cousins, as well.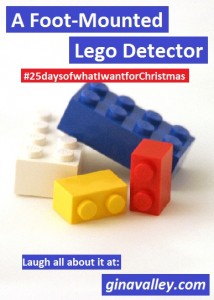 I once stepped on a rogue Lego piece in the auditorium at church. You know, the place where songs are sang, sermons are given, and there is no logical reason why a Lego would be present. It was a backwards Lego-miracle, a Lego-badacle, if you will.
I've stepped on those minions of evil so many times that I have permanent Lego-shaped impressions on the bottoms of my feet. My kids thought they were tattoos.
I told them they're a sign I have children.
Like stretch marks.
Just once I'd like to be able to walk across a room in my bare feet without the nervousness usually reserved for landmine hunters.
Or, for a parent trying to unwrap a Snickers bar without alerting the children.
Hopefully, there's a setting on the Foot-Mounted Lego Alarm to help with that, too.
Laugh Out Loud!
-gina
Be sure to hook up with me on Facebook and Twitter  and Pinterest so you can see all of my #25daysofwhatIwantforChristmas posts.
I'm looking forward to reading your #25daysofwhatIwantforChristmas posts, too. Shoot me your Facebook, Twitter & Pinterest links if we aren't already connected. I'm looking forward to giggling along with you!
Be sure to invite your friends to join in by sharing my And Now For Something Completely Different…Sort Of post with them on all of your social media spaces.
Photo courtesy of Stock.xchng – Used with permission