I Know Something You Don't Know
by Gina Valley
Love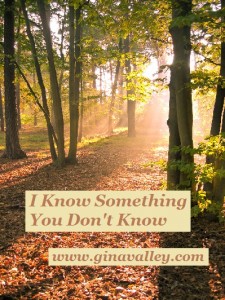 I stand alone and wait for you
Always
You are there
Thoughts of you sustain my breath
I am because of you
Tears come
You heal my soul
Joy springs
My spirit soars
Behind me trails of your beauty
Before me your light
Within me truth of you grows smiling
Hope flows through me
Always you
-gina valley
My eldest daughter is working through a case of the "it's all about me's" this weekend.  She was so upset about being required to, not only wash 4 of the pots in our kitchen sink, but to have to do it my way, that she announced that she wished she didn't live with us at all.
I calmly walked her to our front door and shut it behind her.  I think she was surprised that I did so.  I was surprised I did it so calmly.
After some time alone on our porch, she decided that perhaps she had made a mistake, and came back in and apologized.  It wasn't terribly heart felt, but that didn't matter.  I'd forgiven her long before she apologized.
She didn't know that, of course.
Later that night, she called me on her dinner break from the fast food giant where she works, in tears.  They were being mean to her and yelling at her and she was very upset.  She wondered if I would come and sit and talk with her during her break.  Of course I did.  There was no doubt I would be there.
She didn't know that, of course.
There are a lot of things my daughter doesn't understand about life and the world and a parent's love.  She struggles because she doesn't understand.  Someday she will understand because she struggled.
Her struggles remind me there're many things I don't know.  I know enough at this point in my life to be glad that I don't know everything.
But, I'm glad for what I do know.  Love knows that Love goes beyond words.  That's huge.
I wish my daughter understood me when I say, "I know something you don't know."  I wish she would truly hear what I'm telling her, so she would get to skip many of the struggles she has to deal with in life.
I'm sure God feels the same way about me.  He's quite familiar with loving stubborn, rebellious children, too.
Love!
-gina
Is someone in your life showing off their gift of stubbornness this week?  How are you handling it?  Are you the stubborn one in your pack?  Shoot me a comment.  I'm looking forward to hearing all about it.
Photo courtesy of Stock.xchng – Used with permission