Joy Of Back To School Night 
by Gina Valley
I'm off this week to attend to issues my children are having.
To keep you in giggles, read and laugh along with this Gina's Favorites post.
The Special Joy That Is High School Back To School Night 
High school Back to School Night is a whole different animal than elementary school Back to School Night.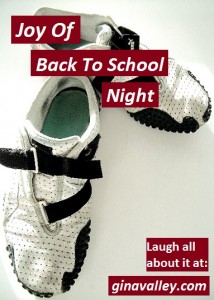 Granted, they both begin the night the same way, with a mind-numbing series of announcements, speeches, and awards presented by an array of administrators most of whose names you will forget even faster than you forget what they were talking about.  But, that's where the similarity ends.
The elementary version of Back to School Night includes a relaxed session of 30 – 45 minutes during which your child's teacher explains the rules and expectations of the class.  Your child's elementary teacher likely has enough time during the session to give a little background about him or herself, to discuss some of the school's unique programs, and possibly to even acknowledge that you are your kid's parents.
At the high school level Back to School Night all bets are off.   Instead of planting yourself in a tiny chair at a tiny desk and remaining there for 30 – 45 minutes, or until your legs have permanently lost all feeling, whichever comes first, at the high school Back to School night you will spend the majority of your time on your feet running.
You will have no more than 10 minutes allotted to each class, with 5 minutes in between to get there. You will find that most of your child's classes at high school, assuming your child told you what classes he has and where they are located, are arranged into a schedule that will maximize the number of miles covered daily traveling between them.
You can always tell the experienced high school parents at Back to School Night. They carry a backpack and wear running shoes.  Of course, the rookies are a lot more fun to watch, as they attempt to get between classes in the short 5 minute passing time while wearing 5 inch heels to impress the young, single shop teacher.
Son#2 carefully highlighted each and every one of his classrooms for me on the copy of the school map he was given at school, so it would be easy for me to find his classes.  Much as I appreciated the effort,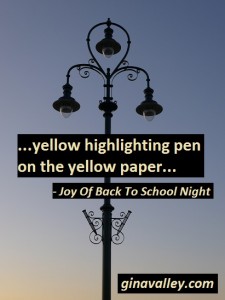 it might have been a bit more effective if he hadn't used a yellow highlighting pen on the yellow paper the map was printed on.
Granted, if held at just the right angle
under a light bulb you can faintly see the highlighting.  But, since the school lights are on a timer that is still set to coincide with summer's late evenings, we parents spent most of the night wandering about in the dark trying to figure out what the braille signs meant.
One woman I passed three times kept muttering something about, "What does DMR mean? That's not even a subject. How am I supposed to find that class?  I don't even know what that is? Why won't he answer his phone?"  I think the janitor had to drive her home.
High School Back to School Night is even more fun if, rather than telling you what the room numbers are, your teen simply describes how to get to each of his or her classrooms.   This is usually the option they select when they don't remember the room numbers, and have waited until you already have the car engine running to go to Back to School Night to fill out their schedule for you.
This week one of my high schoolers explained to me that, although he couldn't remember the room number or the name of the building for his math class, "It's really easy to find."  Apparently, you just go past the old bike racks (are there new bike racks?) and turn to the right (he was almost sure it was to the "right," but if not "just go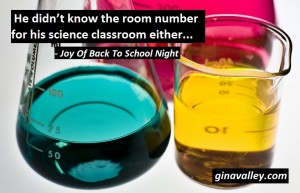 back and go the other way") after the dirt thing. Not the little dirt thing, mind you, but the big dirt thing.
He said that I would know I had gone too far if I came to his science classroom.  He didn't know the room number for his science classroom either, but he was quite sure that the door into it was green (BTW – all the doors at his school are green), and that I'd see Mr. Bones (a full size human skeleton replica) just inside the door when I peered into the right room.
I did manage to find his math class.  It was actually past the medium-sized dirt thing, not the large one, but that's an easy thing to confuse.
I wasn't sure what to say when his math teacher mentioned how impressed she was with his ability to remember numbers.  I think I just went with, "It is impressive."
Laugh Out Loud!
-gina
Have you been fumbling around in the dark this week, too? Shoot me a comment and tell me all about it!
Photos courtesy of Stock.xchng – Used with permission