I've Got Your Mission Impossible RIGHT Here!!!
by Gina Valley
Part of any waiting room's standard equipment is an endlessly buzzing florescent light, even if there are no visible florescent lights in the room.
But, not this waiting room.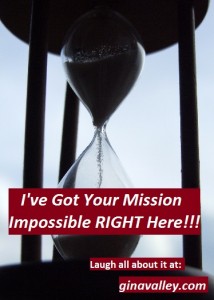 No, they clearly went with the deluxe package when choosing annoying features for this "relaxation" grotto.  The high-end Stark Iceberg White and Cornea-Burning Orange leather furniture provided not only a treat for the eyes, but, every time someone sat, stood up, or shifted their weight, for the ears, as well.
The art work hanging on the white and orange walls depicted trees in various states of decay. I think they did the photo shoot at The Munsters' House.
But, there was a much more impressive addition to this cave of "calm."
At first, I thought the annoying grinding sound was my brain over-heating from filling out 27 pages of paperwork about my child, all of the information requested, I'm reasonably sure, is already in her records. Don't these people have computers?
But, even after I returned the stack of papers to the receptionist, and settled back into my white leather seat, the annoying sound continued.  I watch CSI.  I knew I could figure out where the origin of the offending auditory output was.
I strolled around the parent waiting room, pretending to check out the stacks of pamphlets on the side tables scattered throughout, all the while zeroing in on the source of the sound. Just to the side of the sole, paisley-covered chair in the sea of orange and white leather furniture I found it.
It was a white-noise machine, which, incidentally, was in fact literally white.  The entire machine was white. The speakers, the buttons, the handle, even the cord, all white.  The sound it put out, however, was anything but.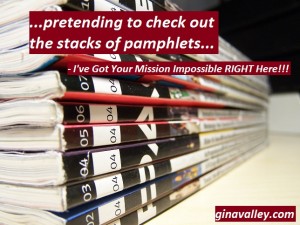 I think it's supposed to be producing the soothing sounds of the ocean. Perhaps they were going for the magical sound waves make when gently caressing the sand-covered shore.
What they got is a cross between static, humming, and an angry raccoon.
I know what happened. Someone told Someone Else to buy a "white-noise machine." But, the Someone Else misunderstood, and instead bought a "white, noise-machine."
Mystery solved, I returned to my chair, confident the knowledge of its origin would allow me to ignore the annoying sound.  I was wrong. I could not ignore it. Knowing where it was coming from just made me focus more intently on the sound. Plus, it was so loud, it was making the table next to me vibrate.
I tried to distract myself by answering emails on my phone, reading an article about the sleep patterns of pandas, and cleaning out my purse.  Nothing worked.  I got more and more irritated by that little, white, very noisy box.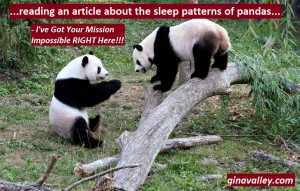 Soon I found myself wanting to destroy the white noise machine. I gave it the death stare, but it wouldn't die. I considered stomping on it, but then I realized these people already have my credit card information. Something tells me our HMO doesn't pay out for broken white noise machines.
When the receptionist stepped out, for what was her third restroom break in less than an hour (I think she might have a bladder problem…or maybe a Starbucks addiction), I took the opportunity to examine the box more closely.
All eyes were on me as I dashed ninja-like across the room, slid down into the paisley covered chair, and picked up the little white box. I knew it would be wrong to rip its guts out. Especially with the room full of witnesses.  Looking closely at the nondescript white cube, I saw that there were indented buttons with tiny letters engraved in them.
I found a button with letters "PWR" engraved in it. I was tempted to use it to turn off the evil little box, but I worried the receptionist would be alarmed by the silence and switch it back on. No, I had to come up with something less obvious.  The Mission Impossible theme song rang through my head.
I turned the little box around until I found my holy grail – the button with "VOL" engraved on it.  It was only set to 10 out of a possible 20, yet was loud enough to impeded conversations.  I worried that if it was set to 20 it would blow the windows out.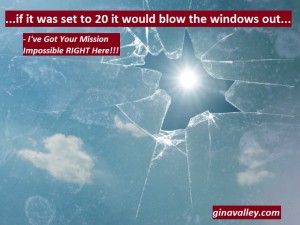 I slowly placed a fingertip onto the VOL button. The Mission Impossible theme song playing in my head got a whole lot louder.
I pushed the button 3 times, and the read out switched to 7. The change in din was so significant that several other parents looked up from their iPads. I pushed it again, and heard sighs of relief echo from my fellow-waiting-room-mates.
Just then I heard the door knob jiggle, and hastily replaced the box. Every face snapped back to its previous activities, as the receptionist walked back in.  I quickly grabbed a magazine from the table next to me, and pretended to read it, while watching the receptionist 's face for any sign she'd noticed the change.
She stopped about halfway across the room, and looked around.  It seemed as though she'd noticed something was amiss. I was worried she'd turn the blasted thing back up.  She stopped when her eyes met mine.
"You know what?" she said?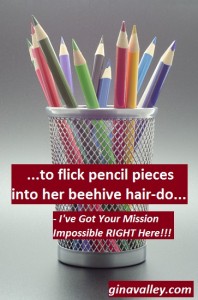 "What?" I asked, my voice much squeakier than it had been since 4th grade, when I was interrogated by our dreaded teacher, Mrs. Greer, about who had been the mastermind behind the group effort to flick pencil pieces into her beehive hair-do.
(Yes, it was me. No, I didn't crack. Yes, I might have said that I was pretty sure her hair was like that when she arrived that morning, and perhaps she should check with her husband. The principal said that he didn't think that was funny, but I noticed he sure seemed to be working hard not to laugh while she told him about it.)
"I left the key in the bathroom," the receptionist answered.  I heard someone on the other side of the room sigh with relief.  She must not have been too worried about restroom security, because she didn't go back for the key.
I was wishing I'd pushed the button another time or two, when I remembered our dear receptionist had a 4-times-or-more-an-hour-restroom break habit.  I figured she'd be out the door again in 15 minutes, or less. So, I sat next to the noise maker, flipping through the magazine pages. Waiting.
I still heard the Mission Impossible theme song in my head. Actually, it might just have been me humming it. I noticed several other parents occasionally throwing a curious glance my way.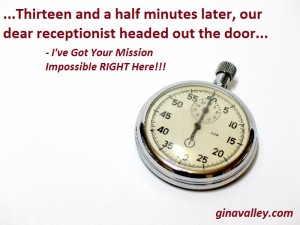 I was so nervous that I was having trouble reading the words in the People Magazine I had hastily grabbed from the table next to me to use as cover for my clandestine activities.  As I looked more closely I realized I had actually grabbed People en Espanol Magazine. It's written in Spanish, explaining why trying to read it in English, or inglés, wasn't working out that well.  I've got your "detail-oriented" right here, people.
Thirteen and a half minutes later, our dear receptionist headed out the door, with what must've been a spare restroom key. As the door shut, I noticed that every eye in the room was on me.  I picked up the little white cubic offender, and located the "VOL" button again.
I pushed the button twice.  There was an amazing drop in the noise level. I could feel my tension headache beginning to subside, and I heard someone let out an audible sigh of relief, as though they'd just been released from bondage.  Then, just for good measure, I pushed the button twice more. The readout read "1".  The sound from the machine was a barely audible buzz, which is what I think it was supposed to be in the first place.
Just then, the door knob jiggled, signaling the return of our dear receptionist. Every head snapped back to its reading material or electronic device. I practically threw the white box back to the floor, and grabbed my magazine.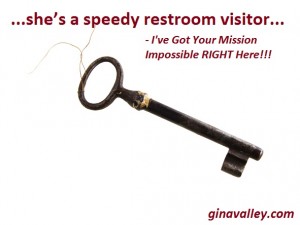 She's a speedy restroom visitor, our dear receptionist.  She went straight to her desk, and began shuffling papers around.
I looked around the waiting room. I saw smiles on every parent's face. A couple even did a little silent applause. Nothing like living through a top secret mission to bring people together.
Now that the "relaxing" sound had been reduced to a tolerable din I headed back to my white leather chair, where I knew I would have no trouble focusing on that article about the sleeping patterns of pandas.
Until our dear receptionist needed a better look at the papers on her desk.
She clicked on the desk lamp next to her.  It was a small lamp, shaped like a withering tree. It was probably a designer, one-of-a-kind piece.  Or, maybe it was from WalMart. I'm no lamp expert.
But, there was one thing I knew about that creepy looking lamp.  It was fitted with a florescent bulb that was on its last leg.  There was no doubt about it, because it immediately began buzzing, as only a dying florescent bulb can.
I looked around the room. Every eye was on me.
The Mission Impossible theme song started up again in my head.
Laugh Out Loud!
-gina
What horrific foes have you had to battle while waiting?  Don't you think running to the bathroom 4 times an hour is a bit too much?  Shoot me a comment. I'm looking forward to hearing what you think.