Isn't it funny how the little things are really the big things?
We all have our silly little things that make us happy.  We all wish we'd won that giant national lottery this week, but we'd be pretty thrilled to find $20 in our jeans pocket while we're doing the laundry.  Personally, I'd be even more thrilled to find someone else had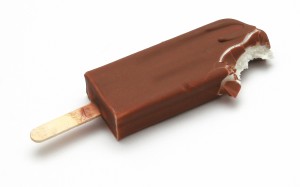 done the laundry.  They can even keep the $20.
I'd love to be able to sleep all night, but I gotta admit, after a week of waking every hour with sick little ones, that 3 hours straight last night was quite decadent.
I think it's cool when I check on the laundry at the exact second the dryer finishes.  Ours plays a song to reward my good timing.  And, I'm ready to call the Nobel committee on the few occasions when I hit the play button at just the right moment to catch the start of the scene after the commercials on the DVR.
Kids are better about recognizing the value of small things.  Say "Yes" the next time the ice cream man drives by and you'll see what I mean.
My kids were thrilled after the new flushing mechanism was installed in the downstairs bathroom this week.  They have been running into the bathroom just to flush the toilet so they can hear the jet engine sound it makes.  Of course, they aren't quite as diligent about flushing when they actually have something to flush, but I'm thankful for any flushing at this point, productive or not.
One of my sons is an anti-lint-ite and was almost as happy with the lint roller I got him as he was with the NBA 2K12 game he got for Christmas.
My youngest son likes to wear a dress shirt and tie.  Anywhere.  Anytime.  Except to soccer.  No problem.  He might be a little over dressed in some situations, like at the pool, but he gets nothing but compliments.
The Professor likes me to walk him to the door when he's leaving.  It makes him happy.  It's 2 minutes out of my day.  I'm happy to do it.
And, perhaps most appropriate to this forum, I was so happy when I finally got a contact page installed on this website last night that didn't cause the whole thing to crash and burn that I almost woke up my whole family to tell them.  They had certainly heard about the first two disastrous installations.  I think some of our neighbors might have even heard my comments on those at the time, too.
What are some of the little things that make you happy?
I look forward to hearing about them.
Laugh out loud!
-gina