A Hunting We Will Go…Gina's Favorites
by Gina Valley
We have a tradition in our family of buying each family member two new ornaments each year.
My idea with it was that when my kids are grown and on their own I will keep one from each year and give them one from each year to put on their first Christmas tree.  Now, I don't know how I will part with any of them, so we'll see how that plays out.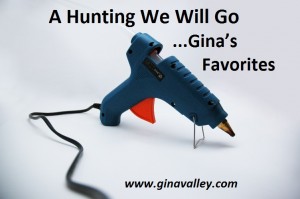 Originally this tradition was to make 2 new ornaments each year.  But, it didn't take long for us to realize that unless Martha Stewart herself showed up to do the work, and maybe not even then, the chance of us coming up with save-worthy, home generated ornaments was slim to none.
So, instead, we go ornament hunting.  Some people schedule an outing to go cut down their Christmas tree.  I stage a surprise reverse ambush on my family sometime after Halloween and before Christmas Day each year to bag us some baubles for the tree.  Twice we've done it on Christmas Eve.  After the midnight service (Don't you go knocking those always-open stores.  We, the over-scheduled, organizationally-impaired, need them).
The ornaments don't have to be ornaments.  It can be anything that's small and light enough to hang on the tree, and that represents something about that person that year.  If I can hook some gold ribbon or a piece of wire on to make it tree-hangable, we'll call it an ornament.
I prefer to take 1 or 2 of my children out to hunt at a time, partly to be able to give them more attention, and partly because I'm less likely to feel the need to strangle one of them that way.  But, the OCD in me revs up after Thanksgiving if these kind of details aren't nailed down.  So, when I realized on the way home from church on Sunday that I had my whole pack AND The Professor captive…I mean … present in the van, I made an impromptu visit to the giant red store.
My teens were thrilled.  I could tell because, although they groaned, no one said, "Do we have to go?"
I could tell my littles were thrilled, too, because they stopped hitting each other long enough to discuss what kind of weaponry they were going to look for to hang on the tree.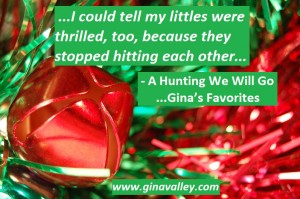 The Professor didn't even roll his eyes.
I could hear sleigh bells.
Son#4, always a tad impulsive, immediately picked out a roll of duct tape as the first of his two of ornaments.  I told him that I'd prefer he get something a bit more Christmasy or personal.  He reminded me that you can make anything out of duct tape.  Touché.
Son#1, always an efficient shopper, quickly found wood cravings of a fish and a snake to represent his favorite pets, his formerly 1 ½ inch long, but now 2 FOOT long catfish (seriously, who keeps a fish alive long enough to get that big?) and the ball python my sister sent home with him after our last visit (wait until she sees what I got her kids).
He then began to busy himself looking at fishing gear.  He loves to fish.  The irony of that is not lost on my fish-whisperer son.
Son#2 an avid, basketball, soccer, and La Crosse player, stuck his hand into the bin of small sports balls, and pulled out 2 balls shaped like monster heads. He asked if I could hook something on them to hang them on the tree.  I said that I could, but wondered whether the sports balls might be more representative of him.  He said that the monsters were perfect because he liked to make faces at people to bug them.  At least he's honest.
So far a snake, a fish, two monsters, and a roll of duct tape.  It's like we were half way to Bethlehem.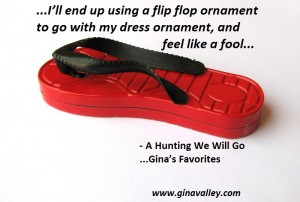 Daughter#1 showed me an ornament she thought I should get that looked like a little black high heel shoe.  I got it, but I know she is going to borrow it, and I won't be able to find it when I need it to go with the cute little black dress ornament I'm hoping to get.  I'll end up using a flip flop ornament to go with my dress ornament, and feel like a fool.
She decided on a camera ornament and a red shoe ornament similar to the one she picked out for me.  Both are perfect for her, as she loves to both take and be in photos, and to both take and be in my shoes.
Daughter#2 picked out, as always, an ornament with a "G" on it because it's her initial, and something purple.  This time it was a glass ball with purple dots on it.  Seeing the "G" ornament in the basket, The Professor asked who it belonged to. Son#4 pointed out, less than patiently, that Gemma is the only one who's name starts with "G."
The Professor asked Son#4, "What about your mom?"
To which Son#4, clearly using his "poor, confused dad needs explaining to again" voice answered, "Dad, mom starts with an 'm.'"
The "Duh!" was implied.
Daughter#3 always gets an ornament with her middle name, Noel, on it.  The second ornament is anyone's guess.  Her tastes vary widely.  This year she decided, despite the very verbal protests of her brothers, to bring Justin Bieber home for the holidays.  His smiling face is grinning on a shiny, glitter-decorated ball.  I fear for his safety, and have made threats that I am hoping will guarantee his survival.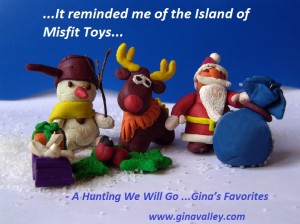 Son#3 made it his mission to locate every ornament in the ornament department which was missing a part AND to show each and every one of them to me.  I was tempted to go get a glue gun to fix them up.  It reminded me of the Island of Misfit Toys in the Rudolph the Red Nosed Reindeer movie.
Somehow, in between broken ornament interventions, arm wrestling with his younger brother, and admiring the bicycle display (this is the first year in ages we got out of there without knocking the entire line of bicycles over) he found time to pick out a rubber duckie and a carved wooden shark to serve as his ornaments for the year.  I have no idea why.
Son#4 brought me a beautiful, 3-dimensional 12- pointed star ornament and said, "Mom, isn't this perfect?"  It really was.  It was sparkly and jewel toned. It would look lovely on the tree.  But, before I could express my gratefulness at his having taken the request to find something fitting to celebrate Christmas seriously, he continued. "Doesn't it look just like one of those big things they used to put on the end of a stick to whack people on the head with?
The Professor spent the duration of the trip digging through a bin of identical penguin ornaments, "looking for one that is left handed."  I'm not sure how you can tell.  But, we've been married a long time, and I've learned that sometimes it's better not to ask.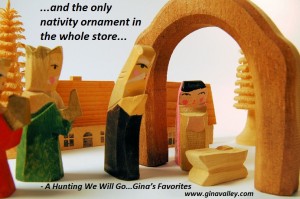 For myself, I got the cute black high heel ornament, and the only nativity ornament in the whole store. I don't mean the only design, mind you, but the only ornament.  I was happy that Daughter#2 found it, but a little sad at its being such a rare find.
I also picked out several different penguin ornaments for The Professor.  I got extra because I couldn't tell if they were left handed.  I put a small tree on the table in our foyer to be home to his penguin ornament collection each year.  Always fun to add to his flock.
I got an extra "Noel" ornament for Daughter#3 in case her Bieber bauble suffers a premature demise.
It was a very successful trip.  No stitches were needed.  No fist fights and only one shoving, kicking incident.  We left with not only the same number of children as we arrived with, but with, in fact, the very same children.  And, we only had to visit 4 different departments, not counting the Christmas area, before everyone found at least two ornament-worthy items.
The ornaments are now in a heap in the middle of our dining room table, awaiting their owner and year labels.  I should have bought a new Sharpie marker to use while we were at the store.  After that they will receive their hanging clips and be cleared for tree placement.
I'm wishing we'd gotten a tree while we were out.
Or, at least some duct tape.
That way we could have made our own.
After all, you can make anything out of duct tape.
Laugh Out Loud!
-gina
Do you have any traditions this time of year?  What about when you were a kid?  Shoot me a comment.  I'm looking forward to hearing all about it.  And, you're already here anyway.  You might as well go for it.