How Many Points Is Invisible Food?
by Gina Valley
It bothers me when our dog –
(Is she a dog or a puppy?
I pride myself on getting these details correct. I want to give you, my dear readers, the correct picture. She's only 6 months old, so technically she's still very much a puppy. She acts like a puppy, gets scared easily, is highly curious, falls down for no reason.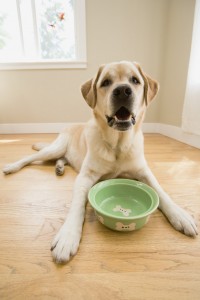 But, she's 60lbs now. She doesn't look much like a puppy at that size, even when she's trying to curl up on my lap. I'm not sure which term to use to accurately describe this giant, silly furball)
– but, anyway – it bothers me when the canine walks in, looks down at the floor, picks something I can't see up, and eats it.
I just finished sweeping, then mopping, the floor, and still, she came in, sniffed around, sucked some un-seeable morsel up, and is now chewing her elusive bite.
What is she eating?
Why is there something "eatable" on the floor, apparently, all the time, no matter where she is?
Am I walking around on food and not seeing it?
Is she eating invisible food?
If it's invisible, is it food?
Is it like those whistles only dogs can hear?  Food only dogs can see?
Is she just pretending to eat?
Is she out of her mind?
Am I?
You know, they say pets make your life longer.
I say they just make it feel that way.
She just ate something else.
And, I think she winked at me.
Laugh Out Loud!
-gina
What do your pets do that make you question your sanity?  Do you think they do it on purpose?  Shoot me a comment.  I'm looking forward to hearing all about it.