If You See Hoohahs, Must Be Halloween!!! …Gina's Favorites
While I run out to buy more candy to hand out to the Trick or Treaters, again, enjoy this Gina's Favorites post.
If You See Hoohahs, It Must Be Halloween
You want scary?  You want to walk around inspiring truly blood curdling terror?  Forget Freddie Krueger, Michael Myers, and Jason.  Chuck Chucky.  Oh puhleeze!  Those are nothing.  Go with something REALLY scary:
REALLY Scary Costumes:
Two Envelope Cable Bill
Dog With The Runs
MasterCard Statement After The Holidays
Spider (some things are always scary)
4 Year Old With Tape Recorder
Your Daughter's First Date
Mother-In-Law Pulling Into Your Driveway Unannounced
At-home Bikini Wax Kit
Scary's not your style?  No problem.  How about something more…er…uh…appealing?
Yes, Hoohahs Set Free seems to be the underlying theme of all women's costumes (I think it's also a DVD, but you won't find it at the Red Box, and it will show up on your credit card bill).  In fact, if you're in the market for a woman's costume, realize they're all the same.  All you'll be picking out is what the style of your hoohah-accentuating hooker get-up will be.
But, why should men be the only ones viewing costumes designed to turn their motors over?  Shouldn't women also be given the opportunity to gawk at displays that start their launch sequence?
Costumes To Pressurize HER Pistons (see how I'm speaking all "guy-speak" to you gentlemen?  I'm a giver like that.):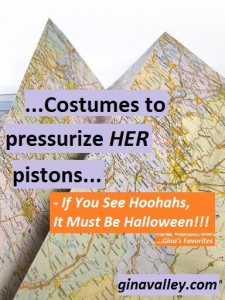 Man Hand-washing Non-dishwasherable Stuff WITHOUT Muttering About How THIS Is Why He Did NOT Want To Get These Stupid Knives In The First Place
Man Asking For Directions
Man With Cold Not Mentioning It
Man Who Just Wants To Cuddle (this also fits into the REALLY Scary Costumes category, too, depending on your point of view)
Man Carrying Sleeping Kids In Gently From The Car
Man Flying Down Kids' Slip-n-Slide Fully Clothed To Surprise His Child
It's interesting to note that as appealing as these costumes are to us ladies, with just a few tiny tweeks, they turn into costumes that scare the heck out of our guys.
Costumes To Terrify Men:
Man Dropping Wedding Gift Gravy Boat While Handwashing Non-dishwasherables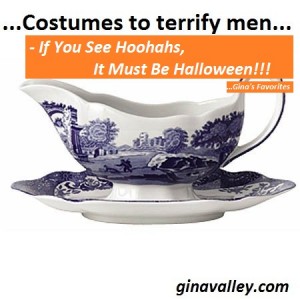 Man Asking For Directions (no change needed from above category to induce teeth-chattering terror amongst males)
Well Man Surrounded By Family With Colds
Man Who Just Wants To Cuddle (men hate him)
Man Getting Hernia From Carrying Sleeping Kids In Gently From The Car
Man Flying Down Kids' Slip-n-Slide Fully Clothed To Surprise His Child Finding Sprinkler In Very Personal Way 
And, remember.  Being a parent at this time of year does NOT mean you have carte blanche to steal half of your kid's Halloween candy.  Being a parent means you have a credit card to take to Costco to buy a 5 pound bag of candy to hide and sneak while they're sleeping.
Laugh Out Loud!
-gina
Anything spooktacular happening in your neck of the woods?  What's your favorite candy? Shoot me a comment.  I'm looking forward to hearing all about it.
Photos courtesy of 
Stock.xchng
 – Used with permission