Is That A Hole?
by Gina Valley
"There's a hole in our kitchen door."
I announced this to The Professor.
Without looking up from his iPad, he responded, "There's supposed to be a hole. That's how doors work."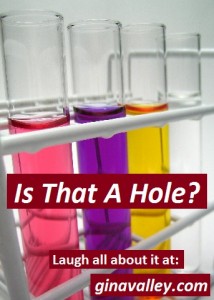 If he wasn't the straight man in our comedy-of-life team, I'd think my husband was trying to be funny. Chemistry professors are not often funny. Well, not on purpose, anyway.
"No, not the doorway. There's a hole in the actual door."
Hub looked toward the door with a suspicious, but clearly willed-to-be-blind-eye. "I don't see a hole."
Now, lest you think I'm making a mountain out of a door hole, you need to know that I would not usually even mention a hole like this to him. Normally, I would just fix it. But, this was his hole. Sort of.
A couple weeks ago, The Professor decided that in order to tighten the hinges on the door between our kitchen and dining room, he needed to take it out to the yard. I expressed doubt at not only the necessity of the door going on this road trip for such an adjustment, but also that said door would be returned promptly to its proper home.
That door is the only thing that prevents children and dogs from flying through our kitchen every time I open our oven.
I don't know what it is about me opening our oven door, but it draws crowds more quickly than yelling "Fried chicken!" at the church potluck.
Some sort of bat signal must be sent off when I start to reach for the handle, which tells every child and pet in the region to immediately make a run through our kitchen.  Maybe the Boy Scouts are offering some sort of merit badge for anyone who can make The Valley Kitchen Run With Open Oven Door in under 12 parsecs (yes, I know a parsec is really a distance, but I was going for a Star Wars tie-in there).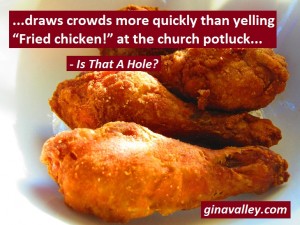 So, I need that door in its assigned position, as kitchen security sentry.
The Professor assured me as he carried the door out to the yard that he would have it back and re-hung within the hour.  I was sure he truly believed that. I was also sure it would not happen.
After 2 days of the door still in our yard, I made it clear to my dear hub that I would be doing no cooking of any kind anywhere in our house until that door was back where it belonged. Then, for emphasis, I took our kids out to dinner (in retrospect that was kind of punishing me).
When we returned, lo and behold, the door was back where it belongs.  But, it had a hole in it.
That's the hole we both stood staring at.
"There is a hole.  It's right there."  I pointed out. "You took it outside, you left it there, and now it's got a hole in it. I can't believe you are not seeing that."
"All I see is a dent," he noted.
"A dent?  You call that a dent? Well, if it's a dent, it's a well -drained dent, because you can look through it and see inside the door," I retorted in my most dramatic, martyr-like voice.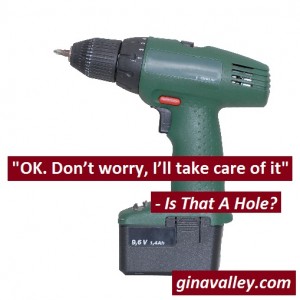 "No one is ever going to even notice…" he began.
I decided to stop him before his safety became an issue.  "You do not want to finish that sentence."
"OK. Don't worry, I'll take care of it," he said reassuringly. I was not reassured.
Today, after I got home from spending the afternoon shuttling our kids all over the SoCal area, I went straight to our kitchen door.  I wasn't really checking to see if he'd fixed his divot. I was really checking to make sure the door was still there.
It was.
And, surprisingly, the hole/dent was gone.
Still, I stared at the door.
Not because the hole is gone.
But, because,
There's a lump on our kitchen door.
Laugh Out Loud!
-gina
Are you a do-it-yourself-er or a write-a-check-for-someone-else-to-do-it-er?  Is there a yard-pile-er in your family?  Shoot me a comment.  I'm looking forward to hearing all about it.  And, please, pass me the sand paper. I've got a lump to level.