Stop Stepping On Their Heads!!! …Gina's Favorites
by Gina Valley
As we celebrate Memorial Day, laugh along with this timely
Gina's Favorites
post.
Stop Stepping On Their Heads!!!
One year we decided, because we are stupid, stupid people, that it would be fun, educational, and inspiring to take our 7 children, 6 of whom were 6 years old and under at the time, to the Veteran's Cemetery for the Memorial Day service.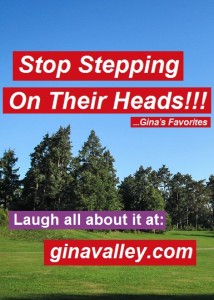 Each Memorial Day Boy Scouts place a flag on each and every grave there.  You have to see it in person to grasp the grandeur of the gesture.  It gives you pause.
But, let's be honest, nothing gives a preschooler pause. Preschoolers don't pause.
I don't know why we were thinking our littles would somehow undergo a miraculous, if temporary, transformation, into people with the desire to sit still and do as they're told.  We must've had concussions from being kicked in the head by our two year old each night, after he'd wander into our room to sleep with us "'cause Matthew's snowin' again."
We should have remembered our kids have always prided themselves on taking all instructions under advisement.  Of course, they define "taking under advisement" as "ignoring."
Standing in the center of the vast, green acres with my pack, surrounded by headstones and people there to honor what those headstones stand for, reminded me there are people, many of them in fact, who put their lives on the line for what they believe in.
It reminded me, as my 94 year old WWII veteran Great Uncle says, freedom isn't free.
And, it reminded me to leave our kids at home the next time.
I could see our six year old eyeing the neat rows of head stones, and I knew what he was thinking before the little human monkey even said it.  There is no good answer when your 6 year old asks you, "How many [headstones] do you think I can jump to in a row without falling?"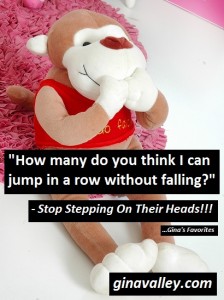 I wanted to say, "Well, I'm not sure, but please don't try it until I have one, OK?" But, that seemed inappropriate.
As the speaker mentioned soldiers "making the ultimate sacrifice" my 5 year old asked if Ultimate Sacrifice was one of the X-Men.  Before I could answer, my 6 year old blurted out, "No, Stupid. It means they're dead people."
"Are the dead people here?" my 5 year old daughter asked, excitement rising in her voice.  I knew she was thinking about silly zombies, like on Scooby Doo.
I noticed my 4 year old daughter, who was not at that point a fan of zombies, Scooby Doo type or otherwise, immediately pulled her dangling feet up onto her chair, and surveyed the surrounding grass for disturbances.  We were the only disturbances
I smelled a strong, repugnant odor, and immediately suspected my one year old.  Despite his loud protests and claims of innocence, I lifted him and performed the traditional fanny sniff check.  I found that he was not the offender, and slid him back into his stroller.
But, I didn't have to wonder who was responsible for very long. My adorable 3 year old daughter, Charlotte, announced loudly enough for everyone in attendance and in residence to hear, as she pointed to the man standing next to me, "Mommy, that man farted!"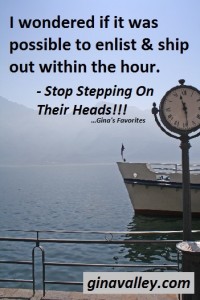 To which, my 4 year old, Gemma, responded even louder, so as to call upon her full authority, "We don't say 'fart,' Charlotte. That's crass.  He tooted. He made a stinky, stinky toot!" At which point, I wondered if it was possible to enlist and ship out within the hour.
Charlotte showed her appreciation for her sister's guidance by knocking Gemma down.  Gemma then, the more agile of the 2, wriggled out from under her bigger, younger sister and socked her right in the left eye.
As The Professor and I pulled apart our delicate, feminine, brawling flowers, we realized it was time to surrender.  We each slung a screaming sister over one of our shoulders, and each grabbed a stroller to push on the long walk back to our van.
Our 5, 6, and 11 year olds all followed along.  Our 2 year old turned and ran in the opposite direction.
I called after him to come get into his stroller. He ran faster. In the opposite direction.  He didn't seem the slightest bit concerned that we'd started the long march back toward our van without him.
But, when I waved the bag I'd filled with Fruit Roll Ups, he came running.  He had his priorities. He might not have had them straight, but he definitely had them.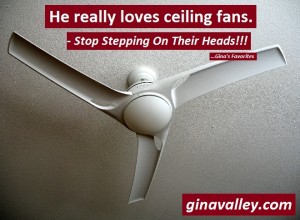 Our one year old, a big fan of Fruit Roll Ups, who spoke only in sign language at the time, immediately, threw his head back, opened his mouth like a hungry baby bird, and repeatedly made the sign for food.
And, the sign for ceiling fan. He really loved ceiling fans.
I noticed that our 11 year old was slowly, but ever so purposely, moving himself further away from the rest of us.  I was glad he didn't have keys to the van, fearing he would take off and leave our embarrassing family circus behind. Our 3 year old noticed his progress across turf, also, but she wasn't happy with his course.
She screamed to her big brother, "Stop it!  You're stepping on their heads!"
Every person and most of the squirrels in the entire cemetery turn in our direction.
I scanned the surrounding area, hoping to spy an open grave I could climb into.
Laugh Out Loud!
-gina
Have you ever caused pandemonium in a cemetery?  How do you observe Memorial Day? Shoot me a comment. I'm looking forward to hearing all about it.
Photos courtesy of 
Stock.xchng
 – Used with permission.