It's Hard To Wash Barf Off A Lanyard
by Gina Valley
I'm not saying she had a bad time, I'm just saying that it didn't go exactly like she thought it would.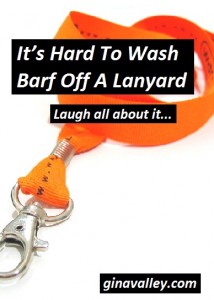 One thing we learn as we start stacking up the decades is that "according to plan" is just a way to make God laugh. Most teens are a long way from reaching that point, and my daughter's right there with them.
My 16 year old daughter spent the weekend at a drama convention. I mean a real drama convention, not just a bunch of teenage girls hanging around being dramatic.
She was looking forward to competing and attending workshops and meeting new people.  She was excited about hanging out with her friends and the fancy hotel and trying new restaurants.
I kissed her goodbye, and she promised to call me that night.
Everything seemed to be perfectly planned as my daughter and her friends drove out of sight, while I waved from their high school parking lot.
My daughter called me that night.  As it turns out, this drama convention was located very close to the city of Upland, California, which was the epicenter for a moderate earthquake that evening. The earthquake was felt quite strongly by my daughter and her friends, and it was a bit scary for her.  I assured her that the next day would be a much better day. I told her that I was sure she'd laugh about this someday.
She told me she'd call me in the morning.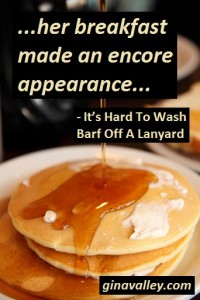 The next morning she called me around 11. Thankfully, her concern about earthquakes was all gone. Unfortunately, the reason it was gone was because her breakfast had made an encore appearance, and it "encored" all over her clothes and name badge.
She'd changed her clothes, but the lanyard and name badge had taken near direct hits, and were quiet pungent. The conference officials didn't have a way to make her another badge, and didn't have any extra lanyards. Moreover, as security was tight, they required her to wear her now stinky one at all times.
She washed the lanyard.  She rubbed it with Purell.  She even squirted it with someone's perfume, but it still stank.  I assured her that her day would get better. I told her that she'd probably laugh about this someday.
She told me she'd call me later.
She called me at 2 o'clock. She'd just finished an ad lib workshop. Somehow one of the participants had tripped, and as he fell, his elbow had smacked my daughter right between her eyes, snapping her sunglasses in two and bruising her head.
At this point she felt perhaps she was not going to have a good day. I assured her that things had to get better.  I told her that maybe, in time, she might look back on all of this and laugh.  In my mind, I wondered how things could possibly get worse. Never wonder that.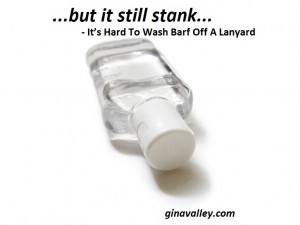 She called me at 7:30pm.  Her group had just finished taking part in a series of trust exercises.  When it was her team's turn to do the catching, her friend had fallen crookedly, and her fingernail had scraped into my daughters arm, leaving two horrified teenagers, and a long, bloody gash (which my daughter said that the first aid lady assured her "probably didn't need stitches"). Blood had dripped on her favorite jeans, and her already stinky name-badge lanyard.
I bit my tongue to keep from asking her if the blood had washed away any of the barf smell.
She seemed to be in pretty good spirits when I told her that I was sure the next day would be a better day.  I was thinking that it would be hard to imagine it being any worse. I did not mention laughing about it.
She said that she figured the next day probably would be better, and that she wasn't going to call me in the morning or in the afternoon. She was just going to text me when it was time to pick her up at her high school instead.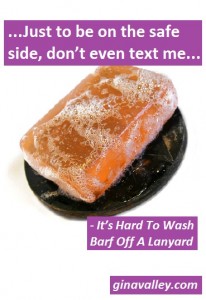 I asked her why she didn't want to call.
She said, "I don't want to hurt your feelings, mom, but every time I plan to call you, something worse happens. I'm afraid I might lose an arm or catch on fire or something if I plan to call you tomorrow."
It was ridiculous logic, of course.
But, it made sense to me.
I told her, "Just to be on the safe side, don't even text me."
I went to the parking lot of her school just before the time they thought they'd be there, and waited until they showed up.  I didn't mind waiting a bit, if it helped her feel more secure.
Plus, I put the time to good use.
I Googled "how to get barf out of a lanyard."
Laugh Out Loud!
-gina
Have you ever had one of those times when everything seems to go wrong? Has your child had one? How did you handle it to keep from falling apart?  Shoot me a comment. I'm looking forward to hearing all about it.
PS – Don't worry. She's already laughing about it.
Photos courtesy of 
Stock.xchng
 – Used with permission