Games I'll Miss When School's Out
by Gina Valley
My children's school year draws to a close this week. And, along with it, many of the games I played on a daily basis.
My pack worked hard to develop these games to keep me busy. They didn't want me to have free time on my hands, and end up joining a gang. They're givers. Truly givers.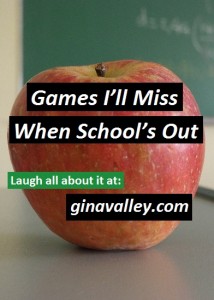 I'll miss playing Guess What's Behind Door #1. I loved the feeling I'd get when I returned home from taking my kids to school, walked into our entryway, and saw a backpack, a stack of textbooks, a musical instrument or two, and various sports paraphernalia there, all of which were, apparently, invisible to my pack as they rushed out through that same entry way on their way to school.
I'll have to do without the heart-racing challenge of Beat The "I Forgot…" Call. Each morning, upon returning home after delivering my progeny to their various educational institutions, I'd dash into my office and race to finish whatever work was pushing its deadline that day before I'd get the "I Forgot" call or IFC, as I like to call it. The question was not "Will I get the IFC?" The question was how many IFC's I would get.
I'd get at least one IFC every morning. Sometimes I'd get two or even three. Once I got eight, which is an especially impressive display of forgetfulness on the part of my offspring, since there are only seven of them.
It's hard to say who will miss playing Guess What Your Kid Did? more, me or the school principals. I've had surprise bonding sessions with the principals at each of my children's school in order to answer a variety of questions, most of which start with "Mrs. Valley, are you aware that your child…?" …had a Samuari sword in her locker? …is the only 2nd grader wearing 4'heels? …disconnected the water pipe from the sink in the students' bathroom? …brought a boa constrictor to home economics? …glued the substitute teacher to a chair? …filled all of the violins with squirty cheese?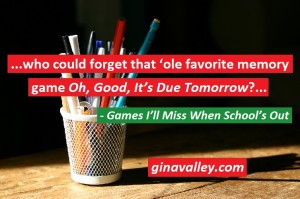 To which I always answered as honestly as I could, "I'm sorry, but you've dialed the wrong number."
And, who could forget that 'ole favorite memory game Oh, Good, It's Due Tomorrow? Be it with a diorama of Dora the Explorer, or a 10-page research paper about procrastination, my kids kept me entertained by never starting, much less telling me about, any project until the night before it was due.
If art supplies, poster board, or glue sticks were required, they wouldn't mention a project until the last store within a hundred mile radius had closed for the night. They're confident in my ability to play and win the expert level of this game.
I'm not sure how I'll work on sharpening my dull seamstress skills now that I won't be playing Project I Need It Today. Having to come up with the appropriate garb for school spirit days, with a maximum of 4 minutes notice, helped me hone my "Make it work!" skills.
"Reflective Day" and "Dress Like Your Favorite Farm Animal Day" were especially tough challenges. Apparently, they meant literally reflective and literally a barn animal. My lightening-speed production of a Socrates costume and an outfit to make them look like their hillbilly cousin Ned didn't qualify. Who knew?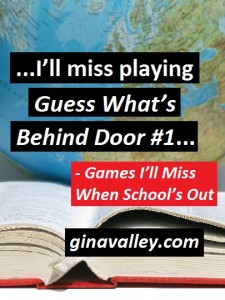 Even though my FitBit never counted it, I always assumed I got more than enough cardio in for the day while playing The Amazing Shoe Search. Before I had children, I assumed this kind of problem ended with pre-school. My 14 year old shot yet another hole through that theory just last week when he was about to get out of our van at school before he realized he didn't have any shoes with him, much less on his feet.
And, just so you know, having to return home to get a pair of shoes does not an excused tardy make. Nor, a happy mom.
I counted on Truth Or Dare, with its soul-searching and philosophical debates, to keep my mind and principles clear. Every Friday, my 13 year old son would ask me to sign his reading log, which indicated he had read the assigned book about a girl growing up in medieval England for 30 minutes daily. He didn't read the assigned book about a girl growing up in medieval England for 30 minutes daily. He scanned the chapter at best. I knew he was lying. He knew I knew he was lying.
So, why did I sign it? Because, it says at the top of the form that reading is the most important step in educating oneself, and I know he spent nearly 20 hours each week reading everything from Birds of North America to Sports Illustrated to The Lightening Thief. And, because I've read that book about the girl from Medieval England and it was lousy.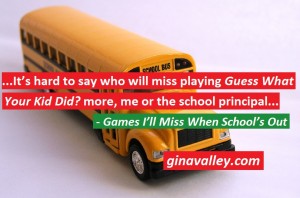 I supposed I'll have to take up reading the dictionary daily now that I won't be playing my daily game of Who Wants To Define "Ready For School"? At 7:30am, every morning, my pack was supposed to be ready for school. At 7:30am, every morning, the majority of my pack would tell me they were ready for school. At 7:30am, every morning not a single member of my pack was actually ready for school. Ever.
At 7:30am, every morning, I'd remind my pack what "Ready For School" meant. Naked isn't "Ready For School". Boxers-only isn't "Ready For School". Still in the shower isn't "Ready For School". Painting the dog's toenails isn't "Ready For School." Wearing yesterday's dirty clothes isn't "Ready For School". Screaming at the printer isn't "Ready for School." Looking for a pair of shoes to wear isn't "Ready For School."
Come to think of it, I don't think I dropped a single kid off at school all year, who was actually "Ready For School."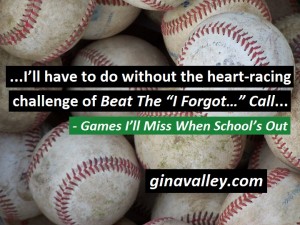 But, I think the game I'll miss the most, which is, ironically, all about the "missing," is Have You Seen My…?:  School Edition.  There are editions of this game for every occasion and activity, but the School Edition is the one I play most frequently. Have you seen my…math book, trumpet, field trip permission slip, class' hamster I brought home for the weekend, lab report about rotten eggs, box of rotten eggs…?
Thankfully, my children, ever the thoughtful creatures that they are, have already started setting up games for me to keep busy playing all summer.
Why just this morning I received a notice from the school library informing me it's time to play What Do You Mean You Never Checked Out That Book? and How Can They Charge Us $94 For A Paper Back Picture Book?
Let the games begin!
Laugh Out Loud!
-gina
What games will you miss when school breaks for summer? Do you have any summer games planned? Shoot me a comment. I'm looking forward to hearing what you think.
Photos courtesy of 
Stock.xchng
 – Used with permission.