Where Was That Fire Extinguisher?
by Gina Valley
I'm not sure what came over me.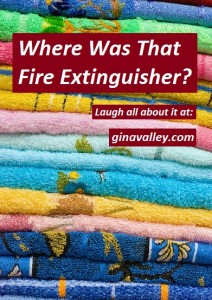 Maybe it was the chocolate fumes at the mall.
Maybe it was having to change the toilet paper roll. For the 3rd time. In one day.
But, whatever the reason, I saw some brightly colored beach towels, and thought that they would make great Easter baskets.
Even more incredibly, I thought I could make them into Easter baskets.
I'm not, in general, much of a crafty person.  I'd love to create beautiful things, but honestly, other than my kids (all of whom are gorgeous!), most of the stuff I make is given only courtesy applause. I can't even paint my own nails without someone remarking, "Oh how sweet! You let your toddler paint your nails!"
Why I saw giant sheets of terry cloth and thought "candy basket!" is beyond me.  But, I did.
When The Professor asked me, "Do you want the wicker or plastic Easter baskets down from the attic?" I answered, "Neither. I'm making the baskets this year."
He said, looking a bit confused, "What are you making them out of?"  He was probably thinking of last year's shower caddy "baskets" or the previous year's bank money bag "baskets."
"Beach towels," I answered with a smile. "The kids need new ones anyway. Most of ours are transparent at this point."
"You're putting beach towels into the baskets?" he asked in what seemed to me to be a hopeful plea.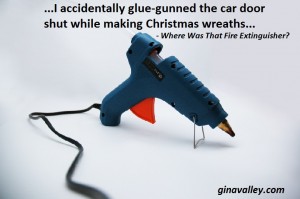 "No. I'm making the baskets out of beach towels," I corrected him.
His "Okay," was not filled with confident enthusiasm.  Or, maybe he was just remembering when I accidentally glue-gunned the car door shut while making Christmas wreaths one year, which, incidentally, everyone thought my toddler had made.
I noticed him glancing toward the fire extinguisher on his side of the bed, too. Like I could possibly set the house on fire doing a simple craft. Again.
I figured people have been making baskets for thousands of years. How hard could it be?  After all, I already had the raw materials, i.e. beach towels.  I could skip the whole hunting/gathering step my ancestors, or at least the ancestors of truly crafty people, would have had to go through.
First off, I reasoned, that since so many vessels are made from coils (pottery, baskets, play-dough hair), I would simply need to stretch out the towel and twist it into a long, thin coil, which I could then wrap around in a circle to form a basket. Simple.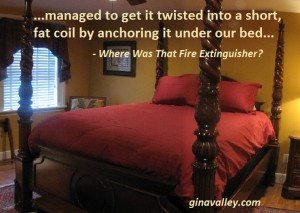 Well, the towel did not want to be twisted into a long, thin coil. It fought me the whole way. I finally managed to get it twisted into a short, fat coil by anchoring one end of it under the leg of our bed and using my whole body weight to twist it.
I was afraid that when I released the end of the towel pinned under the leg of our bed the resulting force would flip me into the ceiling, which would likely leave a mark on both me and the ceiling, and cause The Professor to give me his "I could say 'I told you so,' but I'm not going to because you and I both know that I told you so" look.
So, while firmly grasping the free-end of the twisted towel, I planted both of my feet on top of the other end as I slid it out from under the leg of our bed.  It tried to flip me, but I was able to stand my ground, no doubt aided by the pre-Easter carb loading I had done.
Somehow, I was able to get the unruly coil into a somewhat ring-ish shape that seemed like it could pass as a basket.  But, I knew that the second I let go the coil would spring back into its original flat shape.
I looked around my bedroom for some sort of material to tie my towel/coil/basket creation together. The lack of available options reminded me why real crafters don't usually work in their bedroom (on their unmade bed), and that we don't ever tie anything up in our bedroom.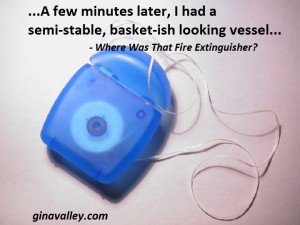 Remembering that dental floss is especially strong and conveniently located right there in our bathroom, I wrestled my towel/coil/basket into the bathroom, grabbed the package, and returned to Craft Central (our unmade bed) to solidify my creation. A few minutes of wrestling and weaving later, I had a semi-stable, basket-ish looking vessel.
The Professor, who has a gift for being in the wrong place at the wrong time, happened to walk in right then.
I sought his expert opinion. "Does this look like an Easter basket?" I asked him.
"Honestly?" he asked. Not his first time at this rodeo.
"Yes, honestly," I reassured him.
"It looks like the Lilliputians took Gulliver's beach towel hostage with a spool of dental floss."
"That's not really the look I was going for," I admitted.
"You have other valuable skills. And, nothing is on fire. I think you should count this as a crafting win," my dear husband added.
I tried to light him on fire with my gaze.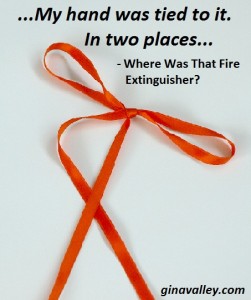 "And, I think you've tied your hand to it."
"My hand is not tied to it," I insisted.
My hand was tied to it.  In two places.
The engineer in me decided I needed a different approach to the problem. Realizing that most items start out flat, I pulled off the dental floss, allowing the towel to return to its original flat, fuzzy self, while I dissected one of my shoe boxes.  I hated to kill the home of one of my pairs of shoes, but sometimes you've got to take one for the team.
I then attempted to fold the towel in the same manner as the shoe box.  But, without cutting out notches, which would have made the brand new beach towels look very much like our old ones, I couldn't get the shape to hold in place once I let go.
At that point I remembered the Japanese are expert, folded-shape makers, and googled "origami box."
The directions to make a precise, delicate paper box quickly popped up on my phone. But, I immediately saw that, without the use of an iron to create the necessary creases, my origami was going to stink-igami.
I briefly considered employing duct tape, but I suspected that might affect the beautiful towels in an adverse, sand attracting kind of way.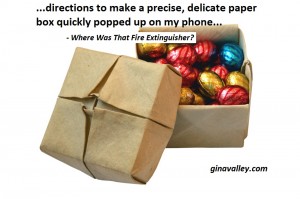 Then, I had an epiphany.
I remembered the folded paper boxes I learned how to make in 3nd grade from my friend, Darrin. You probably made them, too. They have a crazy number of folds, but, when you're done, you can blow them up like a square balloon. I used to make them out of the bulletins during church for little kids to play with.
There was a step in making those complicated, delicate boxes that sprang to my mind as the key to how to make towels into a semi-origami, "Towelgami" if you will, creation.  There was one point when Darrin was explaining to me how to make the boxes where his exact words were:  just cram it in there until it works.
Clearly, he was destined to become an engineer (I think he actually became a music teacher).
So, I revisited the origami instructions.  I folded the towel in half to make it somewhat square, the holy grail of origami shapes. Then, I skipped to the last step of the instructions, manipulated the towel to look like the picture, and "crammed it in there until it worked."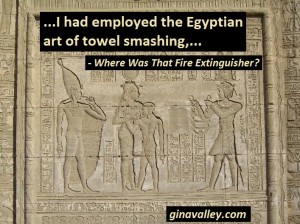 And, it did work. Darrin would have been proud.
Granted, it looked more like I had employed the Egyptian art of towel smashing, than the Japanese art of paper folding (in fact, my 2 youngest dumped the candy out of theirs, immediately put their "baskets" on their heads, and did the "Walk Like An Egyptian" dance). But the basket held its shape and a bunch of candy.
Towelgami for the win.
Maybe I should try painting my nails again.
Where was that fire extinguisher?
Laugh Out Loud!
-gina
Are you crafty or do you glue stuff to yourself? What's your favorite project? Which one do you hate?  Shoot me a comment. I'm looking forward to hearing all about it.