The Elusive Mr. Loo…Gina's Favorites
My kids and I are road tripping it this week, so I thought my The Elusive Mr. Loo post would put you right where we are.
Laugh along with this Gina's Favorites post.
The Elusive Mr. Loo
Dear Mr. Loo,
We spend a great part of each and every road trip in search of you, Mr. Loo, and Mrs. Loo and the Kids Loo, your whole clan really.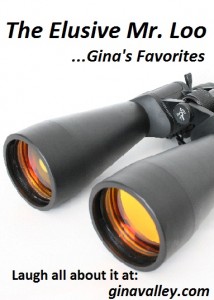 I wonder if you might be willing to answer a few questions from a weary, loo follower.
What's the deal with you on the road?  Why are you so hard to find?  Why is it the greater our off-loading needs the farther you are from the freeway?  How come the chance of you being anywhere within a 15 mile radius is inversely proportional to the urgency of our need to visit you?
Do you give off some sort of chemical scent that tells the Whopper I had for lunch that it's time for it to live up to its name and to immediately trigger an urgent need to off-load 30 seconds after we drive past the exit you are conveniently located next to, knowing that you are nowhere to be found at the next 27 off-ramps?
Why is the chance of you being battened and padlocked directly proportional to the number of little girls who "need to make a boom-boom right now!" traveling in my car?
Who plants the trees in front of those signs that mention, "Oh, by the way, the next time Mr. Loo will be available is 600 miles down the road so you might want to perform a pre-emptive off-load"?
Why are you so difficult to work with even after we do finally catch up with you?
Who installed your off-loading cubicles?  Was it The Thin Man?  Was stretchy Mrs. Incredible the contractor?  Could any woman really sign off on the design of those things?  Why do I have to stand in the toilet to close the door?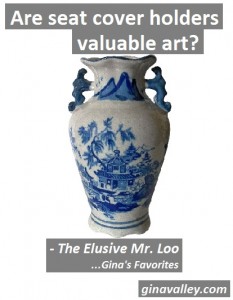 Are seat cover holders considered to be valuable, appealing art?  Would putting actual seat covers into them ruin the perfectly balanced aesthetics of the artfully-designed holder?  Is that why they're usually empty?
What's up with the seat cover dispensers that you push the lever down on to dispense the covers?  Are they supposed to give you 42 covers at a time?  Did anyone do any beta testing on these things?
Do the seat cover dispenser engineers think it is especially hygienic to have the 59 visitors handle and re-undispense the stack of seat covers prior to me selecting my personal protective, high-security tissue paper-based, germ-sealing equipment?
How about the toilet paper dispensers?  Why, whether we travel far or near, do we invariably seem to have 1 of 3 options presented to us? Is no paper, the most common option, even a real option at all?
How come those super-gigantic rolls never seem to have an end so we can never actually use any of their bountiful toilet paper-ness?  Is the reason they last so long not because of their size, but because no one can get any paper off of what appears to be a roll  of toilet paper hijacked from The Hulk?  Did they ask him before they took his TP? Don't they know we won't like him when he's angry?
How come the other option is regular sized rolls in a dispenser that conveniently holds two rolls to ensure a readily available supply, but actually just ensures we will only be able to pull off finger nail-sized scraps of tissue to use to complete our paperwork?
How come invariably the top roll has dispensed before the bottom roll is gone causing them to both be jammed together in the bottom of the dispenser making it impossible to use either roll in the intended unrolling manner they were designed to be used in?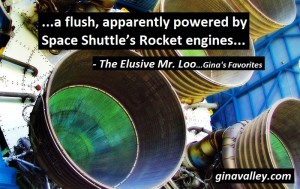 Why do the automatic flushing mechanisms refuse to work anytime other than when I am seated and processing?  And, why is the flush either so weak that it only produces a tiny ripple, reminiscent of that caused by a tadpole surfacing for air, or a flush, apparently powered by Space Shuttle's Rocket engines, so strong that it nearly sucks my purse and my 2 year old down the drain?
And, why, after surviving all of that, do I again have to stand in the toilet to open the door to get out before I head to the sink that has no soap, no towels, and only trickles out 1 teaspoon of water at a time?
Do you realize how thankful you make me for wipies, diapers, and that I'm driving a rental car?
Sincerely,
Pilgrim
Laugh Out Loud!
-gina
How has Mr. Loo foiled your road trips?  Has he made you giggle or made you pull your hair out?  Shoot me a comment.  I'm looking forward to hearing all about it.
Are you hanging out with me on Facebook and Twitter, too?  If not, let's hook up and laugh together today!  And, be sure to sign up for my email notifications at the top of this page so you don't miss a giggle.