I Have Elevator Impairment Disorder
by Gina Valley
You'd think that with the nearly uncountable rides I've taken, or at least tried to take, in elevators over the past week, that I'd be ready to go pro with my elevator skills.
But, you'd be wrong.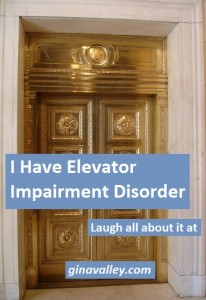 Call it sleep deprivation. Call it distraction. Call it brain misfires. But, whatever you call it, I am clearly suffering from Elevator Impairment Disorder.
It seems like such a simple concept.
You push the button. Some doors open.  You enter a little room (all the while working hard not to think about the fact that it's hanging over a pit by a string), and, as if by magic, the little room takes you to where you want to be.
It's almost like those sliding metal doors are in fact leading us to Narnia. Or, at least the cafeteria.
And, all it takes to trigger the amazing magic is the press of a button.  Just pick the floor you want, press the corresponding  button, and you're off on what is nearly a magic carpet ride.
Simple, huh?
Except, it's not simple. At least, it wasn't simple for me this week. For some reason, I repeatedly entered elevators, and failed to select my destination. I don't know how familiar you are with elevators, but let me assure you that is a pretty crucial step to include.
Somehow, I have developed Elevator Impairment Disorder this week, which causes me to forget to push the destination button after I enter an elevator.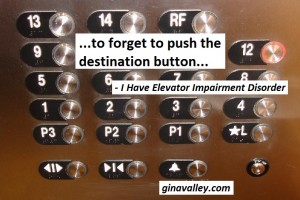 One morning as I entered the elevator in the lobby of our hotel, I enjoyed listening to the youth hockey players gathered in the lobby chattering away excitedly about the tournament they were going to compete in that day.  I was surprised that their voices carried through the elevator shaft so well, but I, hockey fan and mom that I am, enjoyed listening to them as I travelled to join my sisters and mom at the restaurant 3 floors up for breakfast.
Imagine my surprise when, after quite some time had passed, the elevator doors slid open, and I stepped out to find myself in the company of a large group of youth hockey players, yet again.  At first I was surprised to see that this group of players had brought all of their hockey gear up to the restaurant, but I quickly realized they hadn't brought their gear to the restaurant.
The doors hadn't opened because I'd reached the restaurant's floor.  The doors had opened because some had pushed the call button in the lobby, and the elevator I was in was still parked at the lobby level because I had forgotten to tell it to do otherwise.
I think the trouble started before for I even left on my trip.  I spent so much mental energy focusing on not messing up on the many escalators I knew I'd encounter at the airports I had to venture through on my way, that I completely forgot about firing up my elevator skills.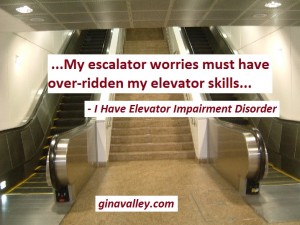 My many escalator worries (only try to go up on an escalator that is in fact going up. Don't fall backward and bounce down the whole thing. Keep my coat from being sucked in with the steps and dragging me in with it. You know, the usual escalator worries) must have over-ridden my previous elevator skills (press the button. Press the button. Press the button).
Not only have I developed the inability to remember to push a destination selection button, I also am apparently quite happy to follow someone else's elevator lead, and to exit the elevator at whatever destination floor they happen to select, whether that was where I was going or not.
One morning as I tried to travel down from the 7th floor in the hospital to the main exit on the 2nd floor (why is the main exit on the 2nd floor anyway?), when the doors opened and I flew out, I found myself on what was in fact the 4th floor.  Granted, the elevator announces the floor number, and the floor number is clearly visible on the door frame as the elevator doors open, but who pays attention to details like that?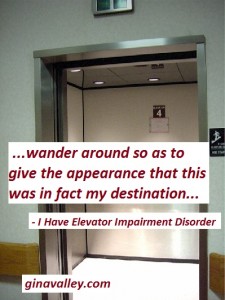 After wondering around a bit, so as to look like I meant to get off on the 4th floor, I again called the elevator, and hopped in, along with 2 other people.  We all then hopped out again when the doors opened after a short ride.
I looked around, and found that I was then on the 1st floor, not the 2nd floor.  As I did my customary "wander around so as to give the appearance that this was in fact my destination" I wondered if security was watching my travels on the surveillance cameras, and calling Homeland Security because they thought I was casing the joint.
I wish I could say that only happened once, but instead I'll admit that I got to see all sorts of floors in that hospital that I never would have had the opportunity to happen upon if I was not suffering from Elevator Impairment Disorder.
Perhaps Elevator Impairment Disorder is a genetic problem.  My sister, Kay, seemed to be suffering from it as well.  One time when she entered the elevator first, and was thus, according to standard international elevator etiquette, responsible for pressing the button corresponding to our destination, we stood talking and giggling about silly things our children had done for nearly 10 minutes before the elevator doors opened, revealing that we were still on the same floor.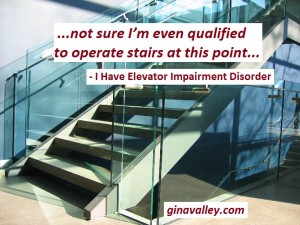 If someone hadn't pushed the call button on that floor causing the doors to open, we'd probably still be in that elevator chatting happily away.
I'd look my Elevator Impairment Disorder symptoms up on WebMD, but that would just say I'm suffering from the common cold or have terminal cancer, and frankly I don't have time for either one of those this week.
I wonder if there's some sort of 12-step program for the elevator impaired.  Maybe I could get some practical help at a meeting.
I just hope that wherever the meetings are held, it's on the first floor.
I'm not sure I'm even qualified to operate stairs at this point.
Laugh Out Loud!
-gina
Are you Elevator Impaired?  How about escalators? Ever had one of those get the better of you?  Shoot me a comment.  I'm looking forward to hearing all about it.
Photos courtesy of 
Stock.xchng
 – Used with permission