Drills We NEED To Have …Gina's Favorites
by Gina Valley
Summer is in full swing at our house, so I think it's a good time to review some helpful drills.
Drills We Actually NEED To Have
My kids' school had a fire drill the last day of school.  I'm not sure they really benefitted from that one.  Let's face it, few of us ever benefitted from the monthly fire drill at school beyond getting some extra time to mess around and maybe to push off a math test.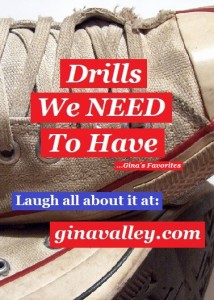 But, since school has primed our kids to be ready for drills, why not take advantage of their readiness and run some drills that will actually help life run more smoothly this summer?
Not sure what to drill your family on or how to go about it?  Fear not! My kids have stomach flu this week, so, since I was up all night, I put this handy dandy drilling list together for you.
Shoe Retrieval Drill – Just once I'd like to leave the house with my entire pack wearing shoes.  I know that's never going to happen, so I figure the next best thing is to work on their shoe retrieval skills.
Begin this drill after everyone is securely buckled into their seats in the family vehicle. At the sound of the key entering the ignition family members are to rapidly exit the vehicle and run back into the house to get a pair of shoes.  Extra points will be awarded for any runner who retrieves 2 of his or her own shoes.  Double point bonuses are scored if the two shoes match each other AND currently fit the runner.  Laces present or working zippers in both shoes earn a triple bonus!
Beach Loo Drill – Why is it a child's need to visit the facilities increases directly with the distance your beach blanket is from those facilities?
Begin this drill by finding the perfect spot for your beach blanket. You'll know you've found the perfect spot when the building for the facilities appears to be a mere dot on the horizon.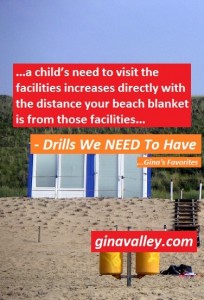 Everyone should be wearing uncomfortable shoes that fill easily with sand or cheap flip flops that come apart every two or three steps.  Immediately prior to beginning the drill each participant must be thoroughly soaked with ocean water to maximize stickiness and chaffing.
At the sounding of the whiny "I gotta go now!" all participants must rush directly to the facilities, running with their legs crossed the last half of the journey.
Moreover, each participant must wait out in the wind for his or her turn to enter the facilities, as no matter how many potential depositories there are only one is ever functional.
Each wind-chilled, soaked and chaffing participant must enter the facilities, remove his or her wet bathing suit, which undoubtedly has decided to become a permanent part of the participant's body, complete off loading, file the paperwork, and re-don his or her bathing suit.
Note:  participants must complete the in-facility part of this drill while simultaneously holding his or her breath as protection from the grievously noxious odors, and complaining constantly about the unsanitary state of the facilities and lack of proper supplies.
Bonus points given for getting the wet bathing suit back on in such a manner that all vital areas are covered on the first try.  Double bonus points are given if the suit never touches the grungy bathroom floor.  Triple bonus points are awarded to any participant who brought along his or her own paperwork supplies.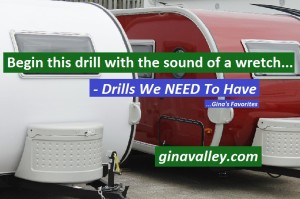 RV Barfing Drill – What is it about camping in an RV that invariably causes a young family member to need to suddenly, violently, often projectile-ly re-visit, usually into the only pair of shoes his or her dad brought?
Begin this drill with the sound of a wretch.
Everyone is to make their way quickly out of the RV, hiding hard to clean items, such as shoes or school books along the way, as they proceed rapidly to the designated outdoor approved revisiting location.
Bonus points are given for weaving through the shoe gauntlet near the RV bedroom without tripping, and for not falling off those nasty black metal stairs-of-death on the way out.
Note: This drill can also be adapted for time spent in SUV and passenger cars, or for specific re-visiting vacation needs, such as for Son#4 who revisits anytime he eats anything orange.
Emergency Dinnering – Why is it so impossible to have dinner at a decent hour during the summer?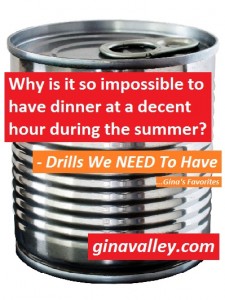 Start this drill at 8:45pm, when it is getting dark and you've realized no one ever made, much less ate, dinner because it hadn't started to get dark yet.
Use only the food you ALWAYS have on hand but never use, including that lone can of garbanzo beans, the slightly wilted bag of lettuce, 4 stiff tortillas, a can of SPAM, whatever is in those two spice jars with no labels, and that rapidly dehydrating, half un-wrapped block of cheddar in the back of the meat drawer.
Bonus points are scored if you have company over to eat dinner with you the night of this drill. Double bonus points are earned if you are able to grill the entire meal prior to running out of propane.
Emergency Cell Phone Call Drill – Why is it that we can never locate our cell phone for those once a year moments when we actually really need to make a call with it, like when someone's bleeding or there's a fire or we're out of ice cream?
It's smart to run this drill periodically throughout the year.  Start by having one of your children either shove your cell phone down a sofa or fire up a raging game of Angry Birds.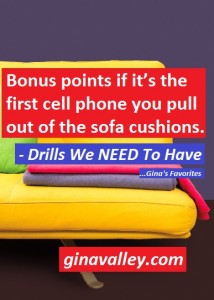 At the sound of the alarm assume a life threatening emergency is occurring.  As quickly as you can, locate and retrieve your cell-phone WITHOUT having someone call it.
Bonus points if it's the first cell phone you pull out of the sofa cushions.
Double bonus points if you can figure out how to shut off Angry Birds so that you can make the 911 call without those bloody birds squawking in the background.
If your cell phone has 21% or greater charge at the time of the drill you earn a triple bonus.
Let's be prepared out there!
Laugh Out Loud!
-gina
Are you prepared for summer "emergency" situations?  Drop me a comment.  I look forward to hearing all about it!
Photos courtesy of 
Stock.xchng
 – Used with permission.