Why We Have The Dog
by Gina Valley
Our dog, Douglas, passed away quite suddenly this past week.  Our family is heart-broken.
Like all dogs, he was a furry bundle of trouble and work and fun.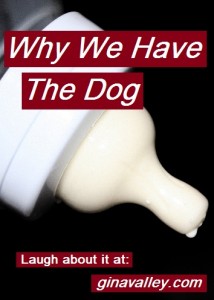 If you don't have a dog, it's hard to understand why anyone would want to go through all that effort just to hang out with someone that is loud and messy and, more often than not, smelly.
Yet, our family always has a dog family member.  Sometimes, as many as 3. Currently, we have 2 yearling lab pups that drive us crazy and keep us laughing all day.
So, considering all the work and that we will face the sadness of the end of their life as they age, why we always have a dog?
I'm glad you asked.
Why we have a dog:
Not because one wag of his tail-of-death clears everything off of the coffee table in one fail swoosh, sending books, drinks, and small children flying in all directions, but because a nudge from a furry head can bring a smile to the worst day.
Not because he figured out how to suck all the milk out of the baby's bottle, but because babies need someone to pull up on when they're learning to walk and to be a soft landing place when they fall and to eat all of the things they throw from their highchair.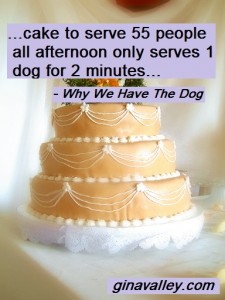 Not because he ate a Costco-size bag of chocolate kisses and pooped sparkles for a week, but because toddlers need someone to play catch and tag with who will never quit and to lick their faces when they've snuck candy and who loves gooey hugs and sticky fingers.
Not because he barks non-stop at fireworks, but because 5 year olds need someone to keep them safe during thunderstorms.
Not because he climbed onto the kitchen counter and proved  that a cake meant to serve 55 people all afternoon only serves one dog for 2 minutes, but because 7 year olds need someone to snuggle with when they've been sent to their room for sassing.
Not because he's afraid of caterpillars and the clothes dryer, but because 10 year olds need someone to help them be brave at the neighborhood park, and to meet new friends.
Not because he can't wag his tail evenly, but because 12 year olds need someone who always has time for them when the world is crazy busy around them.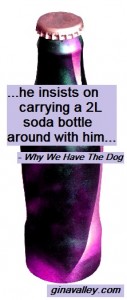 Not because he insists on carrying a 2L soda bottle around with him, but because teenagers need someone to talk to who will listen forever and never interrupt them and never judge them.
Not because he sleeps on the sofa while we're out, and hops off quickly  when he hears us drive up, but because 15 year olds need someone to sit with them and protect them when that strange noise in the empty house makes them wish they hadn't insisted they were old enough to stay home alone.
Not because he feels the need to have a loud discussion with our local gang of raccoons every night at 3:50AM, but because no one should have to be alone when they're up in the middle of the night.
Not because he ate the entire 6 pound box of jerky treats one afternoon and then brought them up for an encore all over the brand new living room rug, but because everyone needs someone who is always happy to see them no matter what time it is, what day it is, or how cranky they were when they left in the morning.
Not because he loves to wake people up who doze off on the sofa by poking them in their eye with his cold, wet nose, and then licking them in the mouth when they open their mouth to holler at him, but because everyone needs someone to take care of them, watch over them, love them completely even if they don't always understand each other.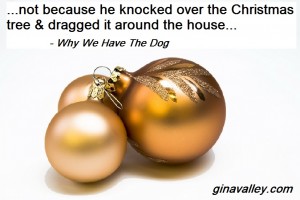 And, not because he knocked over the Christmas tree and dragged it around the house while we were at midnight services on Christmas Eve, but because everyone needs to take care of someone, to watch over someone, and to love someone completely even if they don't always understand each other.
It's been a rough week at the Valley house as we've lost one of our dear furry family members.  We'll never forget Douglas, but I'm glad we have our other goofy dog, Bear and Ziva, to keep us entertained and smiling.
Laughing and crying this week.
-gina
Are you a dog person? Has there been a special pet in your life?  Do your kids have pets? What is it about animals that make them worth the effort and expense to have them in your life? Shoot me a comment.  I'm looking forward to hearing all about it.