How My Dad Says "I Love You!"…Gina's Favorites
by Gina Valley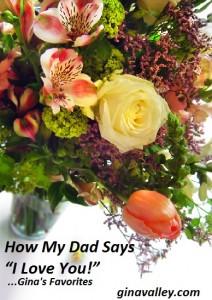 I'm loading this
Gina's Favorites
post at 3AM while I sit at the end of my dad's hospital bed listening to him softly snore, signalling the first real sleep he's had in the 36 hours since his quadruple bypass heart surgery. I'm so thankful for that sound, as it reminds me that he is still here. I'm brought to tears just thinking about the possibility of losing him. I love him, and I'm doubly blessed because I know he loves me.
How My Dad Says "I Love You!"
My dad is the sweetest man alive.
While I visited my parents this past winter I needed to drive from their tiny mountain village to the closest big city to pick up my husband from the airport.
My dad wanted to serve as my chauffeur, as he usually does when I visit. But, had he done so that day, my mom, who has Parkinson's disease, would have been left home alone with 9 grandkids to care for.
I wished he could come with me, as I love our rare time alone together, but I wasn't worried about making the drive alone.
My dad, on the other hand, was quite concerned about me making the long, snowy drive.  He knows I'm a SoCal beach girl, and don't often drive in isolated areas, much less snowy ones.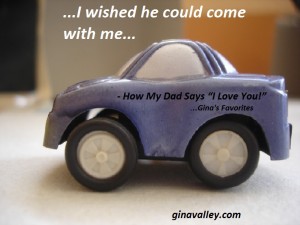 He told me to wear my tennis shoes for the afternoon drive to the airport.  "You'll be more comfortable," he said.
He packed my boots and coat in his car for me. "You never know if the car is going to break down and you'll need them if it does," he said.
He sent a water bottle with me.  "It's cold so it's easy to forget to stay hydrated and you'll be gone for 3 or 4 hours," he said.
He told me to park on the second level of the parking structure at the airport, in the back, on the street side.  "That way you'll have the shortest walk," he said.
He demonstrated to me how to work the heater in his car. "You don't want to over-heat," he said.
He showed me where the light control switch was located.  "It'll be starting to get dark before you get there," he said.
He reminded me to use the car mirrors as I backed his car out of his garage. "Use your mirrors. Use your mirrors!" he said.
He was looking out the window when I returned to his house that evening.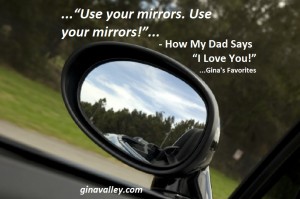 He'd worried about me the whole time I was gone.  "The roads get slick here. Black ice can sneak up on you," he said.
He carried in my coat and my boots from his car. "You'll want these for your walk in the morning. They'll be warmer when you put them on if we bring them into the house tonight," he said.
What he really said, each and every time, was that he loves me.
My dad is "Papa" to 18 grandchildren and 2 great-grandchildren.
But, he will always be my dad.
-gina
How does (or did) your dad tell you he loves you?  How do you tell your kids that you love them?  Shoot me a comment.  I'm looking forward to hearing all about it.
This post appeared on
Dads

 Round Table
 in June 2013 Photos courtesy of 
Stock.xchng
 – Used with permission